Kerala Mango Pickle (മാങ അച്ചാര്‍)
Pickles are a common accompaniment in every Indian meal and they are served in small quantities to enhance the meal. You can make pickle using fruits and vegetables and the most common are mangoes,lemon,carrot,cauliflower etc. Today I am sharing a simple and spicy recipe of kerala mango pickle.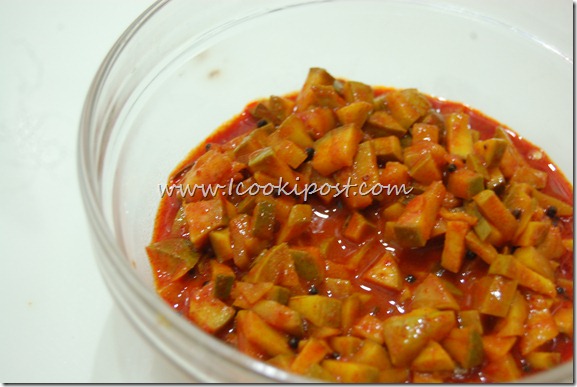 Ingredients:
Raw Mango – 100 gms
Turmeric powder – 1/4 tsp
Kashmiri red chilly powder – 1 tbsp
Fenugreek seeds- 1/4tsp
Mustard seeds – 1/2 tsp
Asafoetida powder – 1/4 tsp
Curry leaves – 1 sprig
Salt
Gingely Oil – 50 ml
Water – 1/4 cup
Preparation:
Wash and cut mangoes into small pieces.
Heat oil in  a pan. splutter mustard seeds, once it is done add all the powders,fenugreek seeds and saute well. Add  chopped mangoes, curry leaves,salt and boiled water.Mix well and let it boil for 2-3 minutes.
Remove from flame and let it cool.
Store in a clean glass jar for 2- 3 days to allow the flavors to develop.
Serve with rice.