Grape Juice Punch
Black Grapes are a good source of fibre and this is a healthy and refreshing drink during summer.This is prepared using black grapes and banana mixed with sugar.Kids will really love this.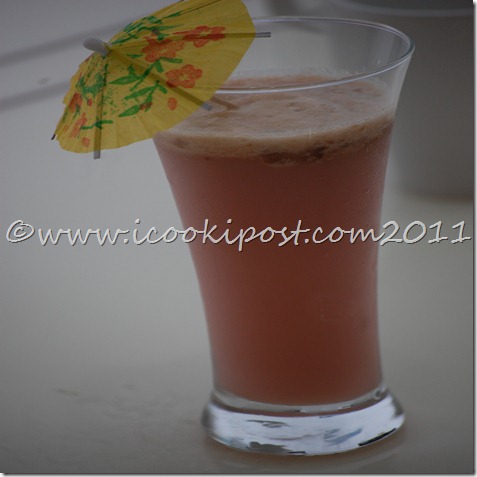 Ingredients
Black Grapes – 500 gms
Sugar – 1cup
Banana(ripe) – 1
Water – 4 cups
Vanilla ice-cream – 1/4 cup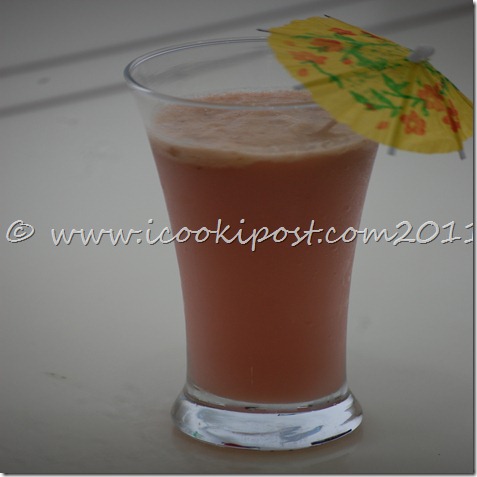 Preparation
Wash grapes thoroughly. Heat a pan and add grapes, sugar,water  and let it cook for 20 minutes.Once it is done, mash the grapes using the back of a spoon.Let it cool.
Strain the above mix to extract the juice.
In a blender, add chopped banana pieces and half the quantity of grape juice to it and blend well..
Add 3 tbsp of ice-cream to it and blend again.Transfer into a bowl.
Add the remaining juice to it and stir well.Refrigerate for sometime.
Pour into glasses and top with vanilla ice-cream.
Serve chilled.
The recipe calls for Robusta (Green banana).But here I used the yellow banana which is  commonly available in  local supermarkets.
Tip:To remove pesticides from grapes, put the grapes in salt water for sometime. Then rinse in cold water.
Recipe Source:Magic Oven Pachakavidhikal by Lakshmi Nair.