Cherry Scones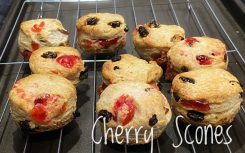 Ingredients
All Purpose flour/self raising flour – 2 cups
Sugar(superfine) – 1 Tbsp
Butter – 1/3 cup
Glazed Cherries(chopped) – 3 tbsp
Golden Raisins – 3 tbsp
Egg (beaten) – 1
Milk – 1/4 cup
Salt – a pinch
Preparation
Sieve the flour, sugar and salt into a mixing bowl.Rub in butter with your fingers until the mixture resembles breadcrumbs.
Stir in the glazed cherries and raisins.Add the beaten egg.
Reserve 1 tbsp of milk for glazing.
Add the remaining milk to the mix.
Mix together to form a soft dough.
On a floured surface, roll out the dough to a thickness of 2 cm and cut out 8 scones using a 2 inch cutter.
Lightly  grease a baking tray.place the scones on to the baking tray and brush with the reserve milk.
Bake in a preheated oven 220degree C/425 degree F for 10 minutes until scones are golden brown
leave to cool on a wire rack.
serve split and buttered.