Pineapple Upside Down Cake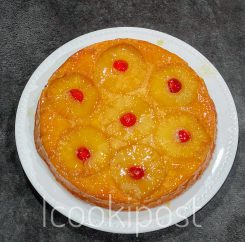 Ingredients
For Cake
All Purpose Flour/Maida – 1 3/4 cups
Baking Powder -1 tsp
vanilla essence – 1 tsp
Butter(softened to room temperature) -1/2 cup
Eggs (Room temperature) – 2
Granulated Sugar – 3/4 cup
Pineapple Juice -1/2 cup
Salt -1/4 tsp
For the Glaze & Topping
Melted Butter(unsalted) -1/4 cup
Brown Sugar(light) -1/2 cups
Pineapple Rings(I used Canned ones)- 7
Red Cherries – 7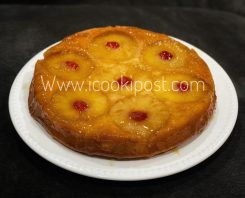 Preparation
Preheat oven to 350 degree F .
In a mixing bowl,add melted butter and brown sugar.using a whisk ,mix well to get smooth texture.
Pour the mix into a 8 inch cake pan and smooth evenly using a spatula.
Place the pineapple rings over it and cherries to the Centre of the rings.
In another bowl,mix softened butter and sugar and whisk well.
Add eggs one at a time .
Add vanilla essence and pineapple juice.mix well .
sift in flour,baking soda and salt.using a electric mixer whisk well to get a lump free batter.
Pour the batter evenly over pineapple rings and smooth it out using a spatula.
Place the baking pan on a baking tray .This is to avoid sugar bubbles run over .
Bake  for 35 minutes or until a tooth pick inserted comes out clean.
Run knife around the edges of the cake to avoid sticking to the pan.
Place a plate over the top and flip it over.
Tap and remove the cake from the pan.let it cool for 20minutes
serve warm.
you can store at room temperature for 2-3 days.
Note:Don't put in the refrigerator as the cake edges gets really hard and crunchy
Recipe Source:cooknshare