Chana Chaat (Chick Pea Chaat)
Chaats are a variety of particularly common snacks which are popular in India. There are different varieties of chats and most common are aloo chaat,chana chaat,chicken chaat.This chaat is a mix of sweet,hot and sour flavors and it tastes great if you make chat the day before you serve it.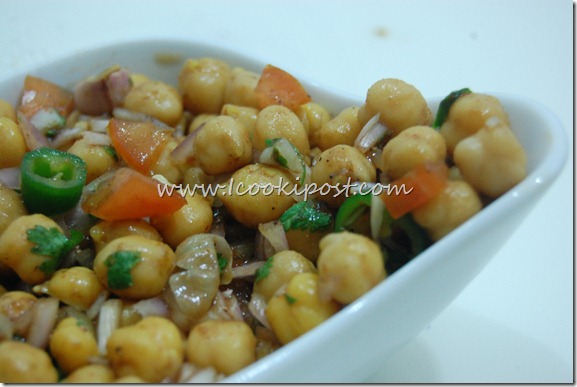 Ingredients:
Chick peas   – 1 cup
Onion(finely chopped) –1
Tomato(deseeded and the flesh diced) –1
Green Chilly(chopped) –1
Kashmiri chilly powder – 1 tsp
Garam Masala – 1/2 tsp
Chat Masala – 1tsp
Tamarind Paste – 1tbsp
Ketch up – 1tbsp
Salt –1 tsp
Coriander leaves – 1tbsp
Preparation:
Boil chick peas with little salt and turmeric powder.soak a gooseberry sized  piece of tamarind in 1/4 cup of hot water for 30 minutes.Squeeze out the pulp and discard solids and seeds.
In a bowl, mix all the above ingredients well . Serve.
Recipe Source:The New Curry Secret by Kris Dhillon