Guava Pickle (പേരക്ക അച്ചാര്‍)
Here I am sharing  a quick and easy pickle recipe of Guava with less oil and less ingredients.
Guava has lot of healthy benefits.They are rich in vitamin A and vitamin C with seeds that are rich in poly saturated fats especially dietary fiber.A single fruit contains over four times the amount of vitamin C  as a single  orange.From now onwards, do not try to peel the skin as its rind is rich in vitamin C.
I have seen in some Food Network cookery shows that its leaves are used in barbeques.The reason they are using it is that it provides a nice smoked flavor and  scent to the meat.
Usually I eat the seedless fruit without skin or sometimes blend smoothie with guava.But after knowing about the healthy facts, I started including guava in my daily fruit bowl.

.This recipe is adapted from a Malayalam magazine and hope you all like this recipe.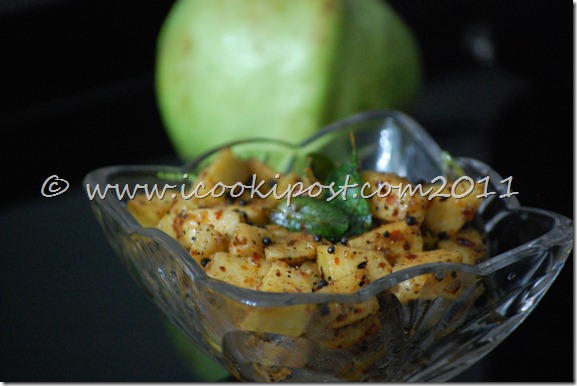 Ingredients
Guava (medium ripe) – 2
Mustard seeds – 1 tbsp
Fenugreek seeds (uluva) – 1 tsp
Dry red chilly – 5
Asafoetida powder  – 1/4 tsp
Salt
Oil –1 tbsp
Curry leaves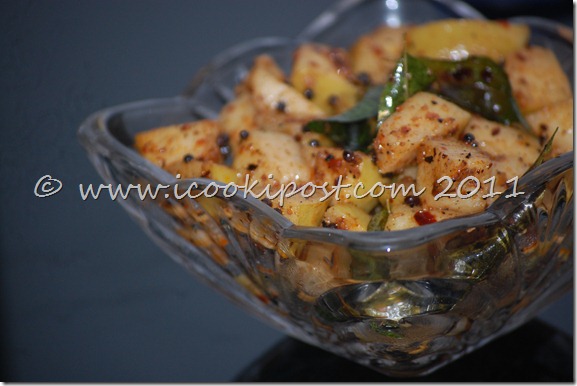 Preparation
Dry roast dry red chilly and fenugreek seeds. Grind it to a powder.
Cut guava into half and remove the seeds.cut into small cubes.
Heat oil in a pan.Splutter mustard seeds. Once it is done, add guava and salt. Saute for 2-3 minutes.
Finally add the roasted powder,asafoetida powder and curry leaves.Stir well to get mixed.
Remove from fire and let it cool.
Once it is cool ,transfer into a glass jar.Keep refrigerated.
Serve with rice.