Murigakkaya Varuthathu (Drumstick Fry)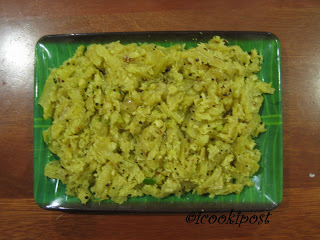 Ingredients:
Drumsticks-6
Grated Coconut-1 cup
Onion(chopped)-1 cup
Green Chilly-2
Cumin seeds-1/4 tsp
Mustard seeds-1/4 tsp
Turmeric powder-1/4 tsp
Oil
Salt
Preparation:
Cut the drumsticks into two inch pieces and take out the fleshy(white)part using a knife tip or spoon.
Grind coconut,cumin,green chilly into a coarse paste .
Heat oil in pan, splutter mustard seeds, and add chopped onions,drumstick,turmeric powder, salt and mix well.
Cook for 5 mins without adding water.once it is done, add coconut paste and stir for some more time till it gets dry.
Add coconut oil and mix well..