Chocolate Almond Joy Cupcakes
Recently I subscribed to cooking club and last week I received the summer issue of the magazine.Cooking club is "where good cooks and good food meet". That's absolutely right.when I was flipping through the pages, I got mesmerized by the yummy picture of chocolate almond joy cupcakes.So I  decided to try it out next day.Thanks to Carrie Franzen for sharing the recipe.This is a perfect sweet treat for kids as well as avid chocolate lovers.
since I am a novice baker,frosting didn't turned out perfect like professional bakers.

but my kids had fun baking cup cakes.
These candy bar-inspired cupcakes are rich chocolate cakes with coconut surprise in the center. Chopped Almond joy bars atop the cream cheese frosting are the finishing touch.Enjoy !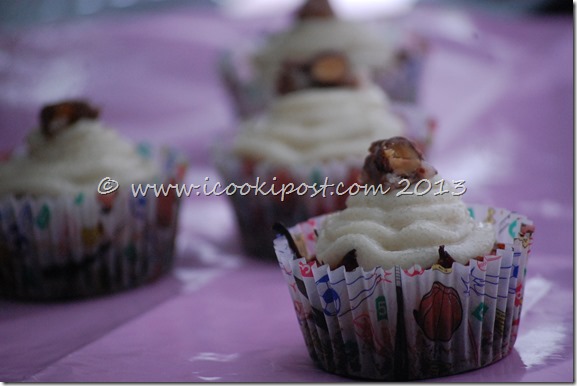 Ingredients
For filling
Egg (white) – 1

Almond extract – 1/4 tsp

Powdered Sugar – 2 tbsp

Sweetened flaked coconut – 3/4 cup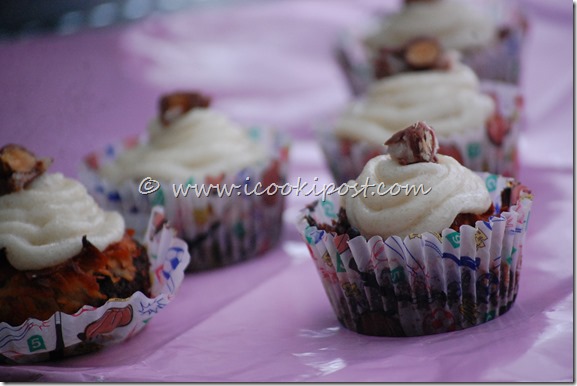 For cupcakes
All Purpose flour – 3/4 cup

Sugar – 1/2 cup

Unsweetened Cocoa – 1/4 cup

Baking Soda –3/4 tsp

Salt –1/8 tsp

Water – 6 tbsp

Canola Oil –1/4 cup

Egg –1

Distilled white vinegar – 1 tbsp

Vanilla extract – 1/2 tsp

Almond extract –1/4 tsp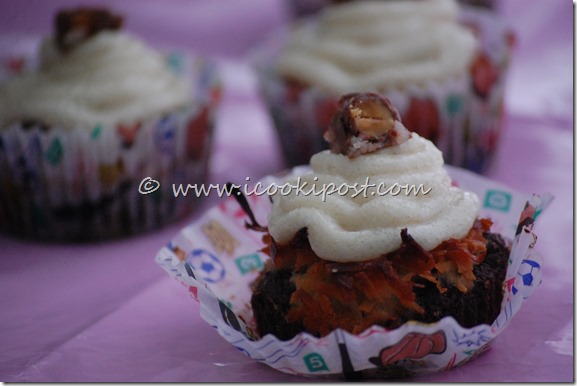 For Frosting
Cream Cheese (softened) – 4 oz.

Butter(unsalted,softened) –3tbsp

Almond Extract –1/8 tsp

Powdered Sugar(sifted) – 2 cups

Almond joy Candy bars (chopped) – 1.61 oz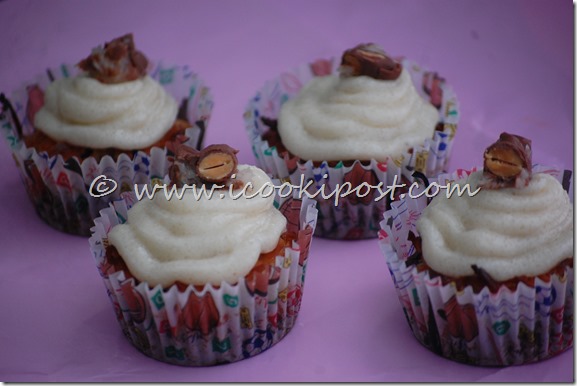 Preparation
Preheat oven to 350 degree F.Line muffin cups with paper liners. Whisk egg white and 1/4 teaspoon almond extract in small bowl until slightly frothy.

Whisk in 2 tbsp powdered sugar until blended. Stir in coconut.

Whisk flour,sugar,baking soda and salt in large bowl. Whisk water,oil,egg,vinegar,vanilla and 1/4 tsp almond extract in medium bowl until blended.

Slowly whisk into flour mixture just until combined.(batter will be lumpy).

Spoon into muffin cups.Top each with scant 1 tbsp coconut filling, gently pressing down so filling is even with batter.

Bake 25 to 30 minutes or until toothpick inserted in cupcakes comes out clean(making sure to avoid filling) .

Cool in pan on wire rack 5 minutes.Remove form pan. Cool completely.

Beat cream cheese,butter and 1/8 tsp almond extract in large bowl at medium speed 1 minute or until smooth. At low speed, beat in 1 3/4 cups of the powdered sugar, adding additional powdered sugar to desired frosting consistency.

Frost cupcakes,sprinkle with candy bars.

Store in refrigerator.

serve at room temperature.

You can make 12 cupcakes using this recipe.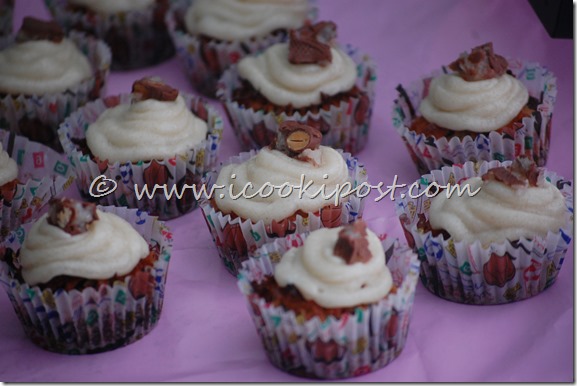 Recipe Source: Cooking Club Magazine – Summer  2013