Madeleines
Madelienes are small shell like shaped sponge cakes popular in France.They are often served with afternoon tea or coffee.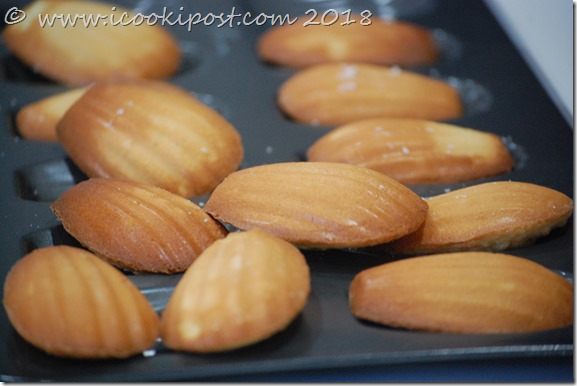 Ingredients
Cake Flour/All Purpose Flour– 1 cup
Eggs – 3
Egg yolk –1
Granulated Sugar – 2/3 cup
Butter (unsalted) – 3/4 cup(1 1/2 sticks)
Salt – 1/4 tsp
Fresh Lemon zest(finely grated) – 1tsp
Vanilla Essence – 11/2 tsp
Butter/vegetable shortening– For greasing
All purpose flour – for dusting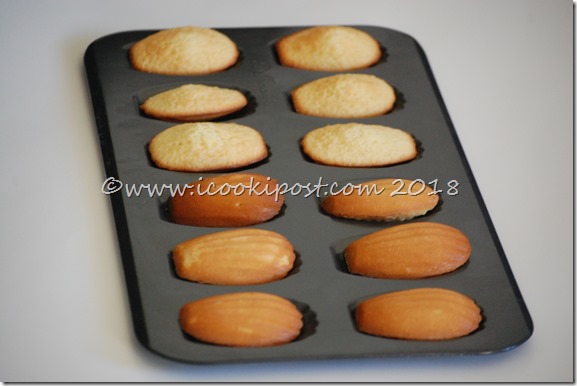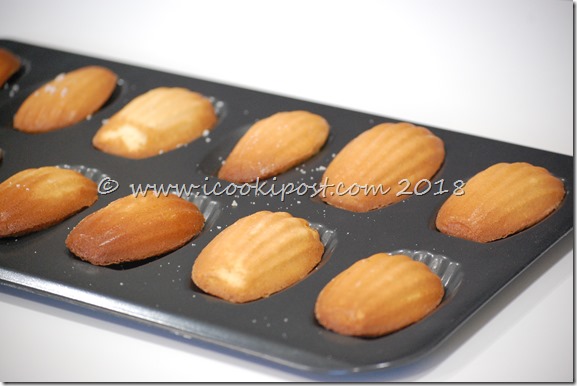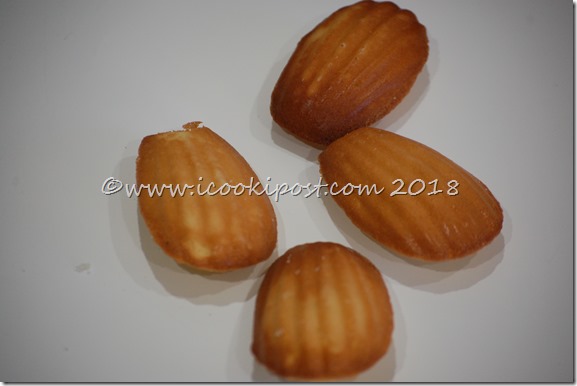 Preparation
In a small heavy pan, Melt butter over medium heat till it turns rich brown.Don't allow to burn.Remove from heat and keep aside
In a bowl, add cake flour(sifted) and set aside.
In a bowl, combine eggs,egg yolk,granulated sugar, and salt and beat with an electric mixer at high speed until very pale and creamy for about 5 minutes.
Add half of cake flour and  mix at low speed until well blended.
Mix in the browned butter in the same manner,then blend in the remaining flour.
Add the lemon zest and vanilla and mix until smooth.
Cover the bowl tightly with plastic wrap and refrigerate for about 30 minutes.
Preheat oven to 375 degree F.Position the oven rack so that the madeleine will bake in the middle of the oven.Please take care not to keep  in the lower rack, it will get burnt.
Using a pastry brush,generously grease the shell shaped molds with butter .sprinkle the molds with all purpose flour,tilt and rotate the pan to coat the molds evenly,invert the pan over a sink and tap the bottom to remove excess flour.set aside.
Spoon a tablespoon of batter into each of the prepared molds,filling to just below the rims.
cover the remaining batter tightly with a plastic wrap to prevent from drying out and set aside until forming the next batch of madeleines.
Transfer the pan to the oven and bake until the top of the madeleines are golden and spring back when lightly touched in their centers with your fingertip ,about 8 to 9 minutes.
Remove the pan from the oven and immediately turn out the madeleines,shell sides up,onto a wire rack to cool completely.
wash and dry the pan,then fill and bake the remaining as directed.
store in an airtight container at room temperature for up to 3 days.
just before serving ,If you like, sift a light dusting of powdered sugar over them.