Baby Corn Jalfrezi (ബേബി കോണ്‍ ജാല്‍ഫ്രെസ്)
Jalfrezi is a type of stir fried curry cooked with spices and vegetables.Jalfrezi comes from the bengali word jhal (means spicy food) and urdu word Parhezi.You can make jalfrez with either vegetables or meat.Baby corn is a common ingredient in Asian cuisine and this jalfrezi is prepared using baby corn and goes great with fried rice.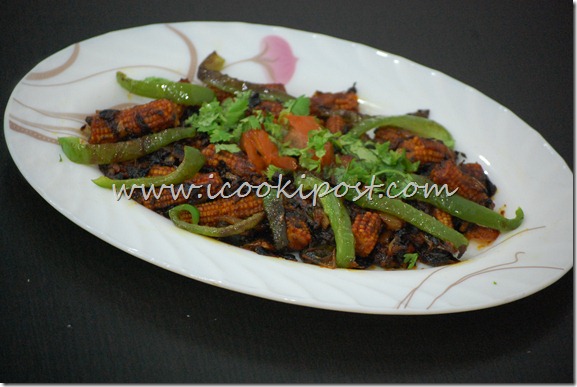 Ingredients
Baby Corn – 400 gms
Onion(chopped) -2
Tomato(Medium) – 2
Ginger-garlic paste – 1 tsp
Green Chilly –1
Turmeric Powder –1/2 tsp
Red Chilly Powder –1 tsp
Cumin seeds (jeerakam) – 1/4 tsp
Capsicum(cut lengthwise)  – 1
Garam Masala – 1 tsp
Vinegar – 1 tbsp
Coriander leaves(chopped) 1 tbsp
Salt
Oil – 3 tbsp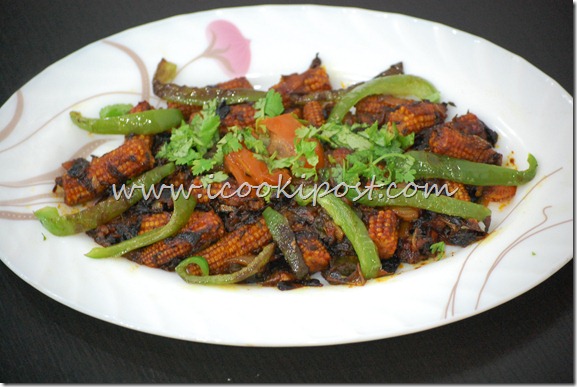 Preparation
Boil Baby corn in hot water for 2-3 minutes. Grind 1 tomato into a paste.
Heat 2 tbsp oil in a pan.Add cumin seeds and once it splutter,add chopped onion ,ginger-garlic paste,green chilly  and fry until onions are brown in color.
Add red chilly powder,turmeric powder,tomato paste ,baby corn and salt.Stir well.cover and cook on medium heat for 10 minutes.
Add vinegar to it and mix well. Turn off the heat.
Heat the remaining oil and saute capsicum and tomato(both cut lengthwise) and keep aside.
Transfer the curry into a serving plate.Sprinkle garam masala on top.
Garnish with coriander leaves,fried capsicum and tomato.
Serve with fried rice.