Semolina Surprise (Rava kebab)
These semolina kebabs are prepared with semolina,vegetables and minced chicken..This yummy snack can be served with hot chilly sauce or garlic sauce.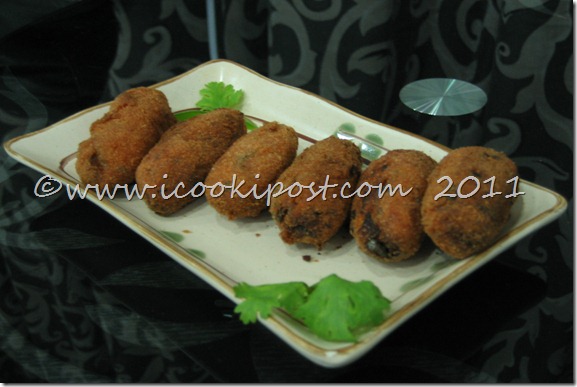 Ingredients
Semolina(rava) – 1 cup
Milk- 1 1/2 cup
Egg –2
Butter-50 gms
Grated cheese –1/2 cup
Grated Paneer – 1/2 cup
Grated Carrot-1/4 cup
Chopped onion –1
Green Chilly(cut into small pieces) – 4
Coriander leaves(chopped) –1/4 cup
Red Chilly powder –3/4 tsp
salt- as per taste
Minced chicken – 1/2 cup
Bread crumbs – as required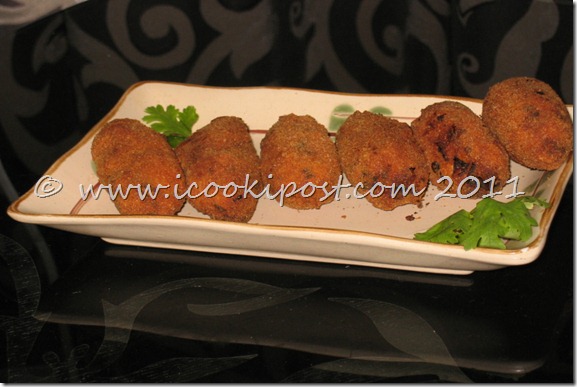 Preparation
Heat a pan.Add rava to it and just warm it.
Add milk to it and stir well to avoid lumps..Add 1 beaten egg,butter to it and stir continuously to get a thick consistency.Let it cool.
Once it is cool,add ingredients numbered 5 to 13 to it and mix well. Take one handful of mix and roll into a sausage like shape.
Dip the balls in beaten egg mix and then roll in bread crumbs.
Deep fry in hot oil till golden brown.
serve with chilly sauce.
Recipe Source: Vanitha Magazine