Bottle Gourd Halwa/Lauki Halwa (Churakka Halwa/ചുരക്ക ഹല്‍വ)
I wish all my readers a happy and prosperous new year 2012. Hope all your dreams and resolutions comes true.I am starting this new year by posting a sweet recipe of Bottle gourd(lauki).
Bottle gourd/Lauki plays an important role in Ayurveda medicine.it is 98% water and lauki juice is  good for treating urinary disorders.I have read in news that the gourds which has bitter taste must be toxic.So as a precaution,a small piece of lauki must be cut and tasted to ensure it is not bitter and only then should the juice be extracted.
Lauki Halwa is quick and easy to make with less ingredients.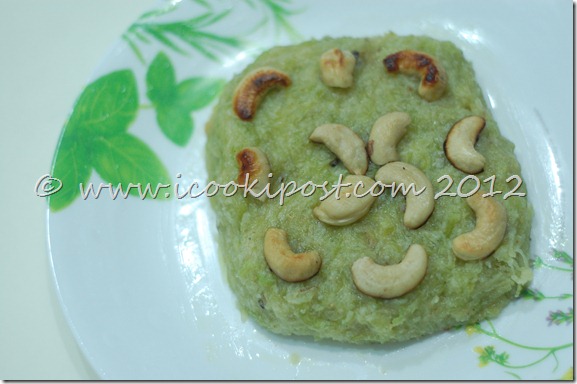 Ingredients
Bottle Gourd/Lauki (grated)– 3 cups
Milk – 11/2  cup
Khoya (grated) – 1/2 cup
Sugar – 2 cups
Ghee- 2 tbsp
Cardamom powder- 1tsp
cahsew nuts(Almonds) – to garnish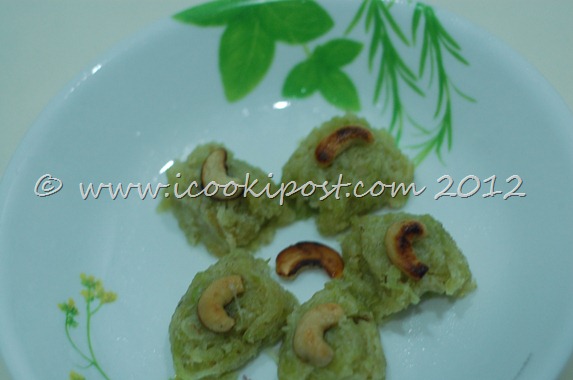 Preparation
In a pan,add grated lauki,khoya sugar and milk.mix well and stir in intervals.while cooking lauki,don't cover with a pan.
once it is dry,add ghee to it and cook for 2-3 minutes.
Add cardamom powder to it and mix well.
Transfer into a bowl and garnish with cashew nuts or almonds.
Once it is cool,cut into desired shapes.
Iam sending this to Veggie/ Fruit A Month Event- Bottle Gourd created by Priya of Mharo Rajasthan is being hosted at Vegetarian Tastebuds.