Paneer Makhani/Butter Paneer Masala
Paneer Makhani is basically a North Indian recipe.But nowadays it is popular all over India.Paneer is Indian traditional cottage cheese made from milk.We can use tofu or bean curd as a substitute for paneer.This Paneer Makhani is prepared using paneer in a rich gravy.it tastes even more better when served with a dollop of butter.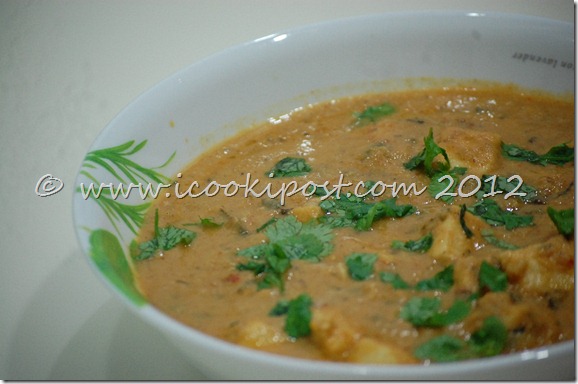 Ingredients
Paneer(Indian cottage Cheese,cut into cubes) – 2 cups
Ginger-garlic paste –2 tsp
Bay leaf(tejpatta) –1
Cinnamon – 1" piece
Cloves(laung) –2
Cardamoms(elaichi) –2
Tomato ketch up – 3 tbsp
Thick Curd(whisked) –1/2 cup
Punjabi garam Masala –1 tsp
Dried Fenugreek leaves(kasoori Methi) –2 tsp
Sugar – 1/2 tsp
Cream –2 tbsp
Butter –2 tbsp
Salt – to taste
Butter (to garnish) – 1tsp
Coriander leaves – to garnish
For the Makhani Gravy
Onions(chopped) – 1/2 cup
Tomatoes(chopped) – 1 cup
Cashew nuts – 1/4 cup
Dry red chilly – 2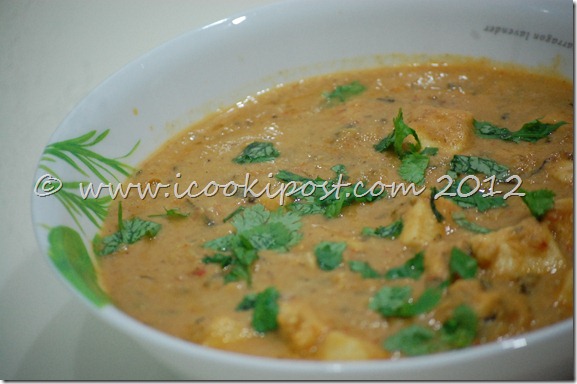 Preparation
For the Makhani gravy,Combine all the ingredients with 1 1/2 cups of water and simmer for about 30 mins.
Let it cool and blend into a smooth paste.Keep aside.
Heat butter in a pan.and add bay leaf,cinnamon,cloves and cardamom to it.
Add the ginger-garlic paste and saute for a minute.
Add the makhani gravy,curds,tomato ketch up and salt and simmer for about 5 minutes.
Add about 1/4 cup of water if required to adjust the consistency of the gravy.
Add the paneer cubes,garam masala,dried fenugreek leaves, sugar and cream and simmer for 3-4 minutes.
Garnish with coriander leaves and butter.
Serve with Roti or Naan.