Kerala Style Neimeen Biriyani/Malabar Fish Biriyani
Fish Biriyani is quite popular in Kerala Malabar Muslim cuisine and it is served during marriages and festivals like Eid.This is yummy and spicy and a great combo with chammanthi and pickle.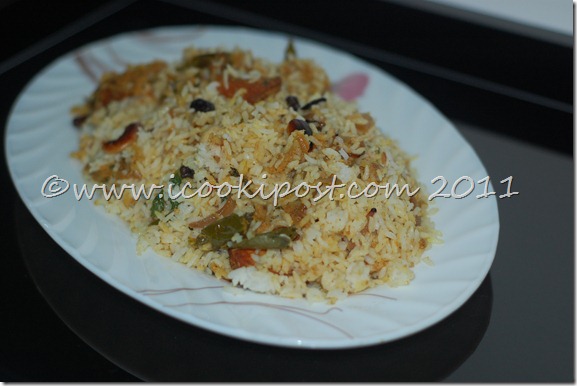 Ingredients
Neimeen (Seer fish) – 1/2 kg
Kaima Rice(jeerakasala rice) – 1/2 kg
Onion(medium) – 3
Green chilly – 6
Ginger paste- 1 tbsp
Garlic paste – 1 1/2 tbsp
Turmeric powder – 1/2 tsp
Tomato (chopped) –2
Red chilly powder – 1 tsp
Grated Coconut (make a fine paste) – 1/2 of a coconut
Garam Masala powder – 1 tsp
Ghee – 2 tbsp
Oil
Salt
Cashews – 8
Raisins – 10
Coriander leaves – 1 bunch
Pudina leaves (chopped) – 1tbsp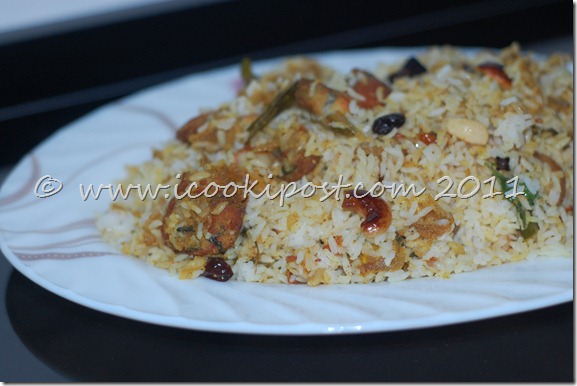 For Preparing Fish Masala
Marinate fish with turmeric powder,red chilly powder and salt .Refrigerate for 30 minutes. Heat oil in a pan and fry fish pieces.
Heat ghee in a pan.Fry cashews and raisins and keep aside.Fry 1 chopped onion in the same ghee till golden brown. Keep aside for garnishing.
In the same oil,saute the remaining chopped onion,ginger-garlic paste and once the raw smell goes, add chopped green chilly ,coriander leaves,pudina leaves,chopped tomatoes and garam masala powder.once it is done, add coconut paste to it and mix well.Add little warm water to it and simmer for 2 minutes.Finally add fried fish to the gravy and mix. While stirring, take care not to crumble the fish pieces.Cover and cook for 2 minutes to get the fish coated with the masala gravy.When the gravy becomes thick ,remove from fire.
For Preparing Rice
Heat ghee in a pan.Light fry rice till crispy and add water double the quantity of rice to it.Add salt, and a pinch of turmeric powder to it.Cover and cook till rice is cooked well.
For Layering Biriyani
Heat ghee in a heavy bottomed pan.Layer the fish masala on the base.Arrange the second layer with biriyani rice and sprinkle some garam masala over the rice.Repeat the process until everything is used up.
Garnish with coriander leaves,fried raisins and cashews.
Cover with a tight lid and cook on slow flame for 5 minutes.
Serve with raita,coconut chammanthi, pappadam and pickle.
This goes to Rice Recipes hosted by Sameena Prathap