Lime Pickle/Cheru Naranga Achar/Lemon Pickle
Lemon pickle is quite popular in south India.Last week, one of my friend gave me some lemons straight from her vegetable garden.So I made a yummy and spicy pickle with those fresh lemons.This recipe is adapted from Lakshmi Nair's Magic Oven Pachaka Kala cook book.This goes well with rice or kanji.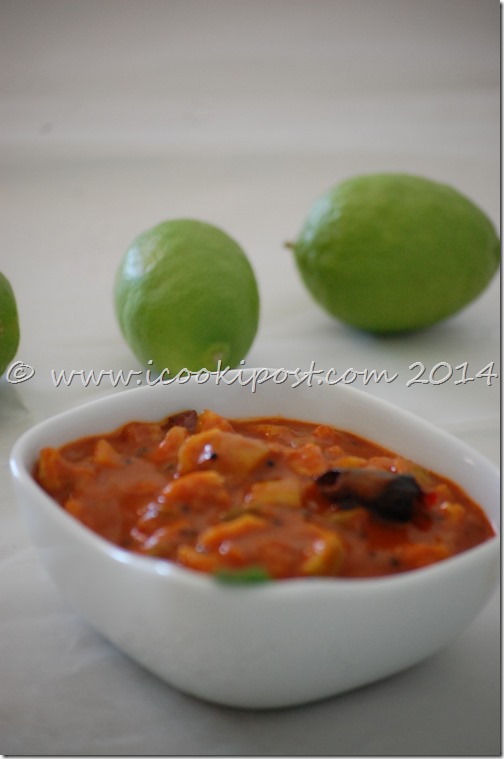 Ingredients
Lime/Naranga(medium size) – 4

Green Chilly(cut into small round pieces) – 3

Kashmiri Red Chilly Powder – 1 1/2 tbsp

Jaggery(grated) – 1/4 cup

Asafoetida powder/Kaayam podi – 1/2 tsp

Fenugreek powder/uluva podi – 1/2 tsp

Tamarind – size of a gooseberry

Mustard seeds /Kaduku – 1 tsp

Dry Red Chilly – 4

Gingely Oil – 1/4 cup

Salt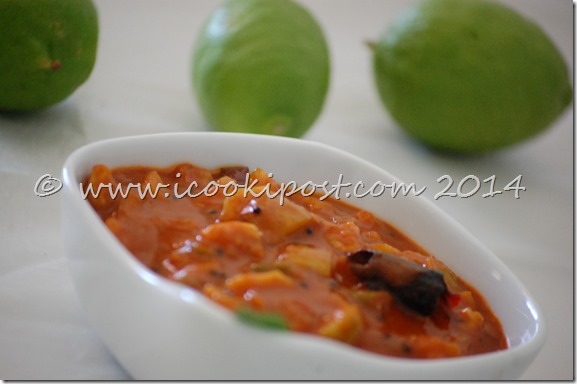 Preparation
wash lemon and grate the outer thick skin.cut into small pieces.Heat 1/2 portion of oil in a pan.Saute lemon with green chilly on medium flame for 5 minutes.

In another pan, Boil tamarind(soak tamarind in 1 1/2 cup of water) water.once it starts to boil,add red chilly powder,jaggery,asafoetida powder,fenugreek powder and salt. stir well and once it starts to thicken add lime pieces to it and mix well..Let it cook for 2-3 minutes.Remove from fire.

Heat the remaining oil and add mustard seeds to it.once it starts to splutter,add dry red chilly and pour the seasonings to the pickle mix.

Once it is cooled completely, transfer it into a glass jar.

You can refrigerate after one day.

Serve with rice or kanji.