Jackfruit Seeds Pickle/Chakkakuru Achar
Jackfruit tree is abundant in every backyard of kerala homes and  the jackfruit season starts from March.Here in Singapore ripe jackfruit is available all the time in supermarkets.But  it is very expensive here:-). This is a unique recipe of chakkakuru and hope you all will try it out.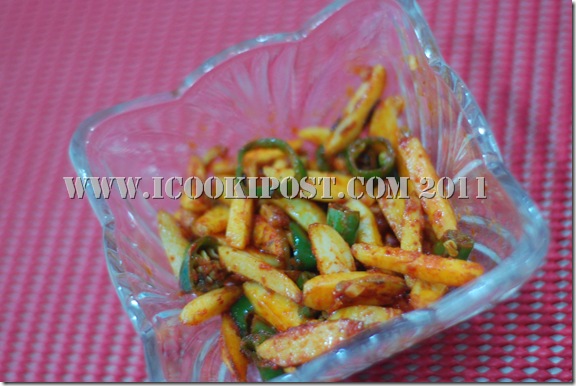 Ingredients
Jackfruit seeds(Chakkakuru) –10
Green Chilly – 3
Ginger(chopped) – 1 tbsp
Red Chilly Powder- 2 tsp
Fenugreek seeds powder(dry roast and grind)-1/2 tsp
Asafoetida powder-1/2 tsp
Lemon –1
Vinegar –1/2 tsp
Salt –to taste
Gingely oil – 5 tbsp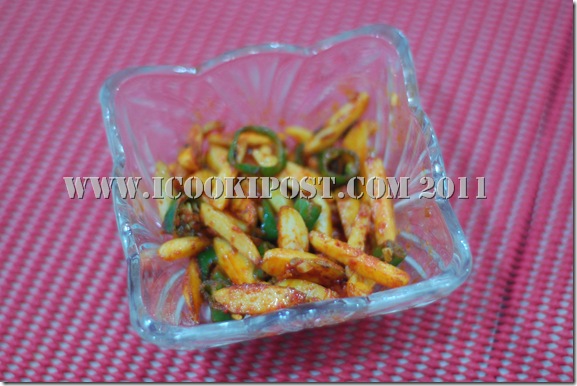 Preparation
Cut green chilly  into small round pieces.Chop ginger lengthwise.
Remove the outer skin of jackfruit seeds and cut lengthwise into quarter pieces.
Heat 2 tbsp gingely oil in a pan.Saute jackfruit seeds with chopped green chilly and ginger till jackfruit seeds are done.Add salt and lime juice to it and mix well.
Add red chilly powder,fenugreek powder,asafoetida and remaining oil.turn off the heat and let it cool.
Once it is cool,add vinegar to it and mix.
Transfer it into a glass container and you can use it after 2 days.
Serve with rice.