Mango Halwa
This Mango halwa is prepared using mango pulp,sugar and corn starch.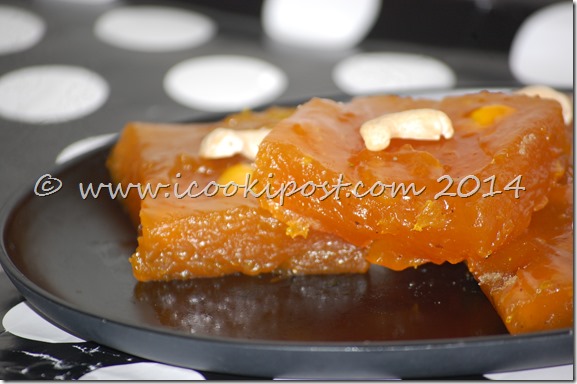 Mango pulp(I used Alphonso mango pulp)   –   4 cups

Almonds   –   ¼ cup

Cardamom powder  –  ½  tsp

Cashew nuts   –   ½ cup

Corn starch   –    1 cup

Ghee   –  ½ cup

Sugar   –   4 cups

Water    –  1 cup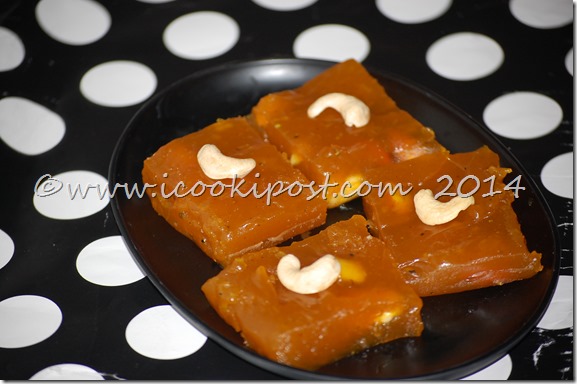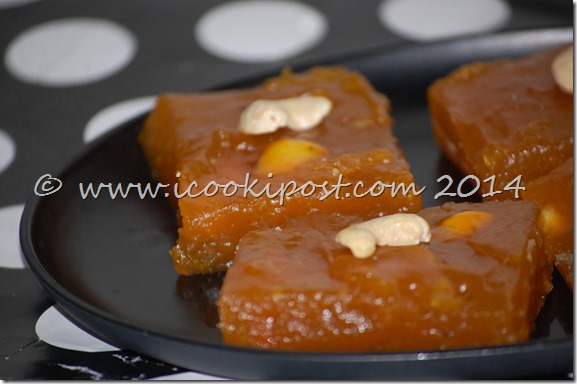 Preparation
Heat 1/4 cup of ghee in a pan.Add mango pulp to it.

Dilute corn starch with water.mix well without forming lumps.

Once the mango mix is hot, add corn starch mix to it.Keep stirring until it thickens.Add sugar to it and keep on stirring till the mix separates from the sides of the  pan.it will take about 45 minutes.Add the remaining ghee every 10 minutes while stirring.

Add almonds,cashew nuts and cardamom powder to it  and mix well.

Transfer the mix into a greased pan.Let it cool for 3 hours.

Cut into desired shapes.
Recipe Source:VahrehVah