Fruit Custard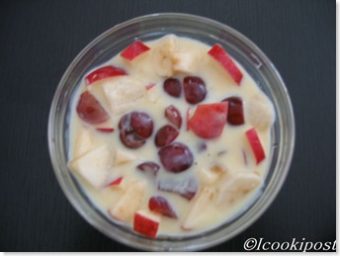 Ingredients:
Custard powder(here I used vanilla flavor) – 3tbsp
Milk – 2 cups
Sugar – 6 tbsp
Apple(cut into medium pieces) – 1
Banana (peeled,cut into round slices)– 2
Grapes (black seedless) – 1 cup
(You can add  fruits like orange, strawberry, pomegranate seeds also)
Preparation:
Mix custard powder with  milk and bring it to boil.
Stir continuously to avoid lumps.Add sugar to it.
Once it  thickens, remove from heat  and let it cool.
Keep in the refrigerator for 1 hr.once it gets cool it becomes more thick.
Add fruits only at the time of serving.