Masala Peanuts/Masala Kadala(മസാല കടല)
Masala kadala is a popular snack of south India. You can have this crunchy and crispy snack  with evening tea or while watching TV:)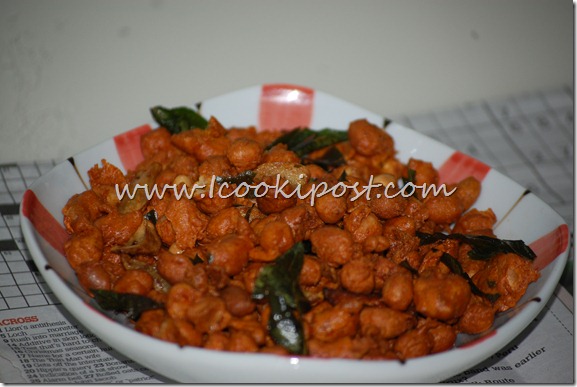 Ingredients:
Raw peanuts –  2 cups
Chick pea flour(besan) – 3tbsp
Red chilly powder – 2 tbsp
Kashmiri chilly powder -1 tsp
Turmeric powder – 1/2 tsp
Cumin seeds(lightly crushed) – 1 tsp
Asafoetida powder – 1/4 tsp
Garlic (cut lengthwise) – 1 tsp
Curry leaves
Salt
Water – 8 tbsp
Oil for frying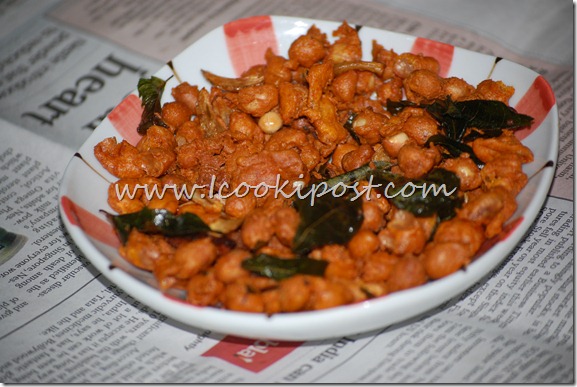 Preparation:
In a bowl, put the peanuts. Mix besan with red chilly powder,turmeric powder,chopped garlic,cumin seeds and salt.
Add water to it and mix to get a thick paste.
Pour this over the peanuts and mix well until the peanuts are thoroughly coated.
Heat oil in a pan .Fry the peanuts in batches for about 2-3 minutes on medium heat until light brown. stir slowly so that peanuts doesn't get stick to each other.
Drain on kitchen paper.In the same oil,fry curry leaves till brown and add it to the peanut mix.Once it is cool it will be crispy.
Store in air tight jar for up to 2-3 weeks.
Serve as tea time snack.
For video Preparation::https://youtu.be/RNOGgLUsqUQ