Egg Aviyal /Mutta Aviyal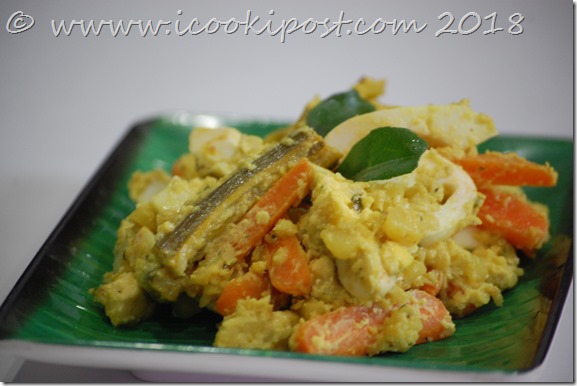 Ingredients:
Egg (Boiled,cut lengthwise) – 3
Drumstick (cut lengthwise) –1
Potato (cut lengthwise) –1
Raw Plantain (medium ) – 1
Grated Coconut  – 1/2 cup
Garlic – 2
Ginger –1  small piece
Cumin seeds/jeerakam – 1tsp
Shallots –4
Green Chilly – 3
Peppercorns – 2
Turmeric powder – 1/2 tsp
Red chilly powder-1/4 tsp
Indian Yogurt/Curd – 4 tbsp
Curry leaves
Coconut oil – 1 tbsp
Salt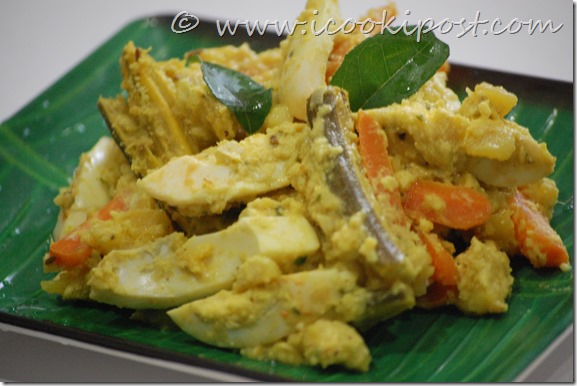 Preparation:
Boil eggs and keep aside.
Grind grated coconut,green chilly,shallots,garlic,ginger,cumin seeds,peppercorns into a coarse paste.
In a Kadai,add drumstick,potato,plantain with little turmeric powder,salt and water and let it cook.
once it is cooked well,add coconut paste and mix well.Let it cook for 2 minutes .
Add yogurt/curd to it and stir well.
Finally add boiled eggs to it and stir gently.(Take care not to break the egg pieces).
Pour coconut oil over top of the aviyal.
Remove from fire. Cover with a lid until serving.
Serve with Rice.