Nurukku Gothambhu Upma(Samba Broken Wheat Upma)
Upma is popular as south indian breakfast dish and rava upma is the most common one. This is a healthy and nutritious upma prepared with broken wheat.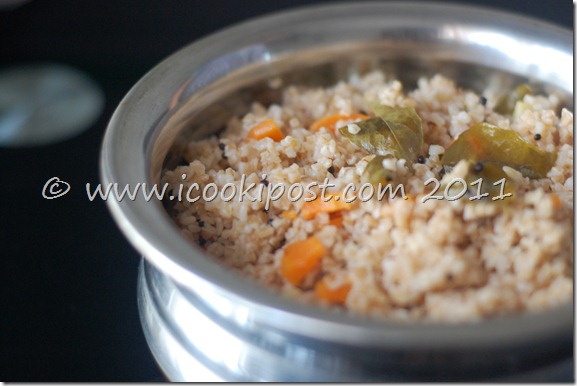 Ingredients
Broken Wheat(Nurukku Gothambhu) – 1 cup
Shallots(chopped) – 5
Bengal Gram dal(kadala parippu) – 1/2 tsp
Carrot(chopped) – 1
Ginger(chopped) – 1 small piece
gree chilly(chopped) – 1
Curry leaves-  1 sprig
Mustard seeds- 1 tsp
Oil
water – 2 1/2 cups
Salt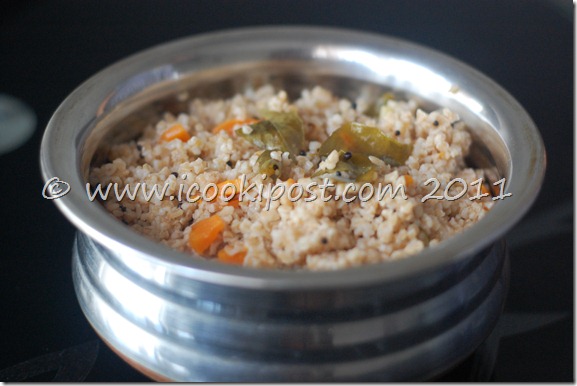 Preparation
Heat oil in a kadai.Splutter mustard seeds and once it is done,add bengal gram dal,chopped shallots,till golden brown. add chopped ginger,green chilly,chopped carrot and curry leaves. saute for few minutes.
Add 2 1/2 cups of water,required slat to it and allow it to boil.
Once it starts to boil, add washed broken wheat to it and mix well.
Cook for 10 minutes by stirring constantly.This helps to prevent from burning on the bottom of the kadai.
you can garnish with sugar while giving it to kids.