Thai Pineapple Fried Rice
Thai pineapple fried rice is common in Thai cuisine and this is one of my favorite. whenever we go to Thai restaurant,we always order this fried rice.This is easy to make and if you love to cook ,you can make this restaurant style food at home

. Hope you all will try this colorful and yummy fried rice.Enjoy!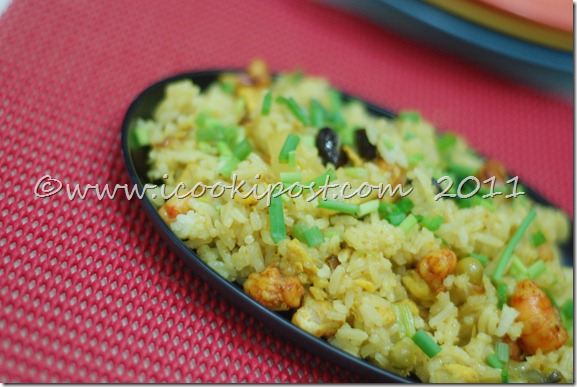 Ingredients
Pineapple (cut into small pieces) – 1/2 cup
Thai fragrant Rice – 1 cup
Onion(chopped) –1
Garlic (chopped) –4
Green Chilly(chopped) –1
Green Peas(boiled) 1/4 cup
Prawns – 10
Curry Powder – 1tsp
Egg – 1
Cashewnuts(fried) – 10
raisins – 1 tbsp
Soy sauce or fish sauce – 2 tbsp
Sugar – 1 tsp
Spring onion –3 Sprigs
Coriander leaves – 1tbsp
Oil
Salt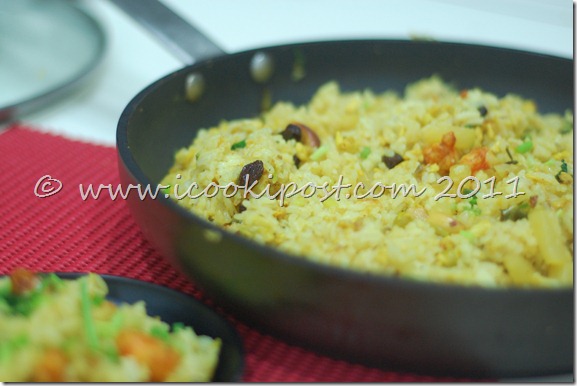 Preparation
In a rice cooker, Add rice and water in equal amounts(1:1 ratio)and leave to cook automatically.Remove and let it stand for 10 minutes.
Heat oil in a pan.Add chopped onions,chopped garlic,green chilly and saute well.
Add prawns to it and stir till dry.
Add curry powder,beaten egg and stir well so as to get the egg scrambled well.
Add pineapple pieces( I used the canned one),fried cashewnuts,raisins,boiled green peas,soy sauce,sugar ,spring onion and coriander leaves and cooked rice to it
Stir gently to get mixed well.
Garnish with chopped spring onions.
it is usually served in a pineapple shell.since I used the canned pineapple chunks,I served on a plate.
If you are vegetarian. you can avoid prawns,egg and substitute with vegetables like cauliflower,carrot.