Spinach Stir Fry (ചീര മെഴുക്കുപുരട്ടി)
മെഴുക്കുപുരട്ടി is a common side dish of Kerala and it is stir fried in coconut oil. Usually മെഴുക്കുപുരട്ടി can be prepared with most variety of vegetables such as Cabbage, Brinjal, Bitter gourd,plantain etc.Today I'm sharing a simple one using Spinach which is a sort of continuation of my previous post on spinach 🙂 too.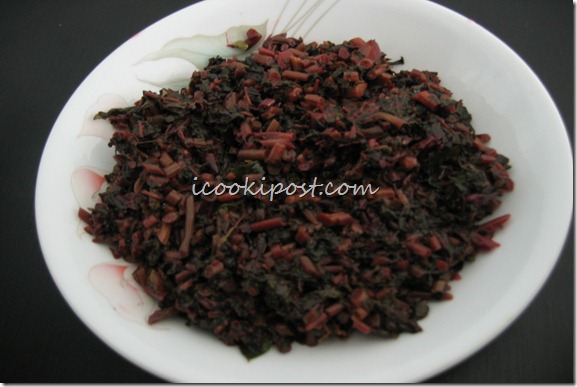 Ingredients:
Spinach – 1 cup
Shallots –6
Green chilly –2
Curry leaves – 1 sprig
Mustard seeds – 1/4 tsp
Salt
Oil
Preparation:
Wash, clean and cut spinach.Mix well chopped spinach and chopped green chilly.
Heat oil in a pan. Splutter mustard seeds and once it is done add chopped shallots,curry leaves and saute.
Finally add spinach and salt .Keep covered and Cook on low flame.
Serve with rice and curry.