Kovakka-Peechinga Sambhar (Ivy Gourd-Ridge gourd Sambhar)
Sambhar is quite popular in south Indian cuisine and it is prepared using daal and various vegetables like shallots,ladies finger, brinjal and drumsticks.But this one is prepared using Ivy gourd and Ridge gourd,both veggies are nutritious and good source of fiber.This curry can be  served with iddly,dosa or Rice.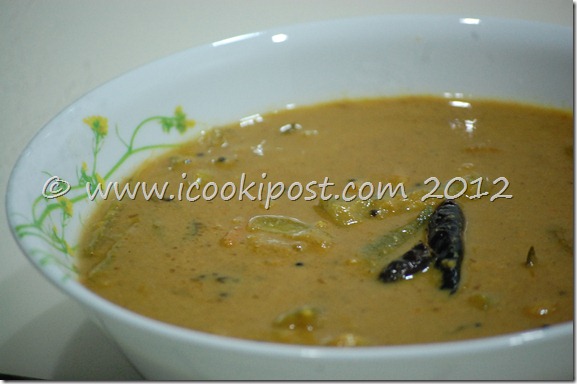 Ingredients:
Toor dal(Parippu) – 100 gms
Kovakka(tindora/Ivy gourd,cut lengthwise) – 100gm
Peechinga(Ridge Gourd/Turai,cut into 1/2" lengthwise) – 100 gms
Turmeric powder – 1/4 tsp
Coriander powder – 2tbsp
Red chilly powder – 2 tbsp
Grated coconut – 1/2 cup
Cumin seeds(jeerakam) – 1/4 tsp
Tomato (medium,chopped) – 1
Shallots- 6
Tamarind – size of a gooseberry
Sambhar Masala – 2 tsp
Curry leaves
salt
Coconut oil
Mustard seeds-1/2 tsp
Dry red chilly –2
Fenugreek seeds – 1/4 tsp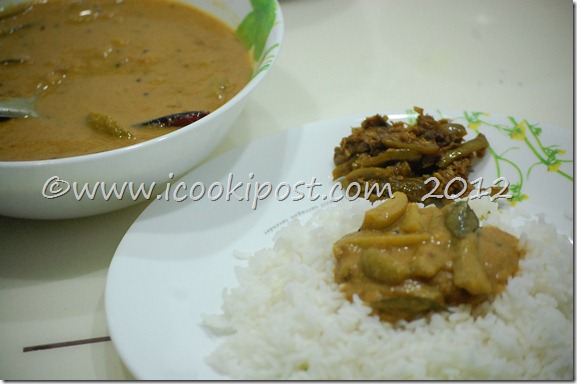 Preparation:
Pressure cook daal with 1 sprig curry leaf,turmeric powder and 2 shallots.
Heat 2 tsp oil in a pan.Roast grated coconut,red chilly powder,coriander powder ,cumin seeds,shallots (4),curry leaves till coconut turns brown in color.Grind it into a fine paste.
Once daal is cooked well, open the lid and add the veggies and salt.
Let it cook and once the vegetables are cooked well,add tamarind mixed with 1/2 cup of water to it. Mix well.
Once tamarind is boiled well,add chopped tomato,Sāmbhar masala powder and coconut paste.mix well and cook for 2-3 minutes.
Remove from fire.
For seasoning,heat oil in a pan.Splutter mustard seeds,once it is done add red chilly and fenugreek seeds.Add it to the curry.
Garnish with Curry leaves.
Serve with Rice.