Chole-Palak (Chickpeas and Spinach Curry)
Popeye is the favorite of my kids who always eats spinach to become super strong and so do I tell my kids to follow him too his healthy eating habits 🙂
Spinach is rich in calories and green in color which provides more nutrients than any other food. Recently I read that it is good to have spinach atleast twice a week to avoid vision related issues. So no matter how you consume it make sure you keep spinach as one of the primary vegetables in your daily diet.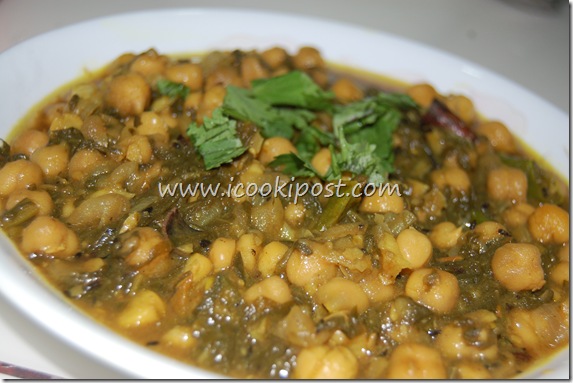 Ingredients:
Chick peas(Garbanzo beans/Chole) – 1/2 cup
Spinach(palak/Cheera) – 1 cup
Green Chilly – 3
Ginger (chopped) – 1/2 tsp
Tomato – 1
Turmeric powder – 1/2 tsp
Cloves –3
Cinnamon stick – 1" piece
Cardamom – 2
Cumin seeds –3/4 tsp
Asafoetida powder – 1/4 tsp
Fenugreek seeds – 1/4 tsp
Tamarind paste – 1 tbsp
Coriander leaves
Oil/Ghee
Salt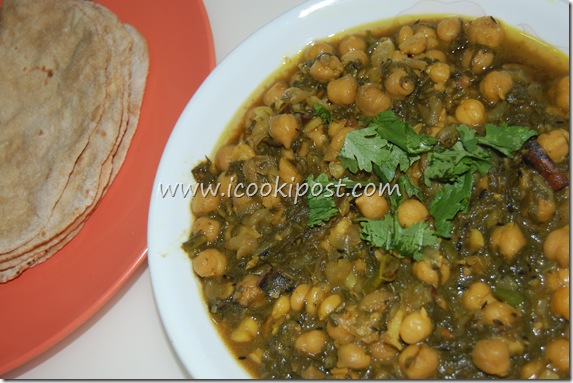 Preparation:
Soak chickpeas overnight .pressure cook till it is soft.
Clean and wash spinach.chop the leaves. If spinach is not available you can substitute with fenugreek(methi)leaves.
Fry Grind clove,cardamom,cinnamon stick(1/2"piece) in a pan and grind into a powder.Garam masala is ready.
Heat oil(Ghee) in a pan. add cumin seeds and splutter.then add fenugreek seeds, cinnamon stick and saute.
Once it is done, add green chilly(slit) and chopped ginger and saute well.
Add asafoetida powder,turmeric powder and chopped spinach leaves and cook.
Once the leaves are soft,add salt to it and mix.add chopped tomato and saute.
Add boiled chickpeas (keep aside 4tbsp of chickpeas and mash with a spoon)  with 1 cup of water.once it starts boiling, reduce to low flame and cook for another 5 minutes.
Add  the mashed chickpeas,garam masala  and tamarind paste to the curry.Mix well and cook.
Once the gravy is dry, switch off the stove.
Garnish with coriander leaves.
Serve with rotis or chappathi.