Spinach Vada (Cheera Vada)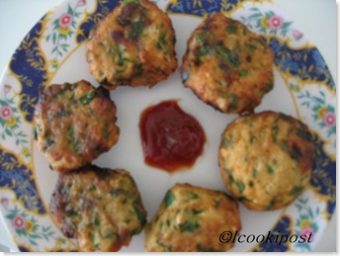 Ingredients:
Urad dal – 250 gms
Toor dal – 25 gms
Spinach – 1 bunch
Green Chilly -7
Coriander Leaves
Raisins – 25 gms
Salt
Oil
Preparation:
Soak urad dal and toor dal in water for 1 hr.
Grind it into a coarse paste with salt and green chilly.
Add chopped coriander leaves, chopped spinach,salt ,fried raisins to it and mix well.
Make round shapes with the mix and deep fry in oil  till brown. Serve with tomato ketch up
Thanks Priyanka for passing me the "you make my day" award.I would like to pass this award to all my fellow bloggers who made my day with  their wonderful comments .