Apple Burfi
Burfi is a popular sweet of India and it is usually prepared using condensed milk  and sugar.The most common are coconut Burfi and Almond Burfi.If you have a sweet tooth and are craving for a sweet ,here is  a fast and healthy recipe of Apple burfi.When I saw this recipe in a cookery show I wanted to try it out.My hubby and  little ones really liked it and it was finished off by them within a day .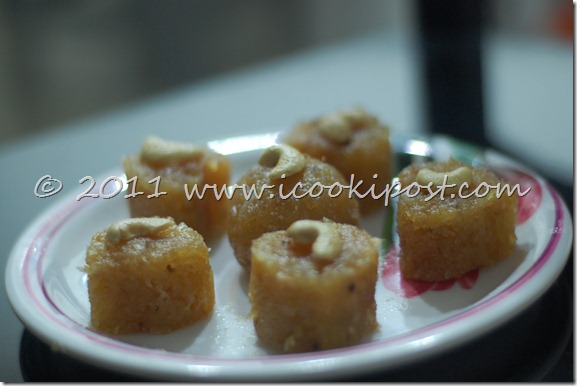 Ingredients
Apple(grated) – 2 cups
Sugar – 2 cups
Grated Coconut – 3 cups
Ghee – 2 tbsp
Lime Juice –1/2 tsp
Cardamom Powder – 1 tsp
Ginger juice- 1 tsp
Condensed Milk – 1 tbsp
Cashewnuts – to garnish
Preparation
Heat ghee in a pan.Add grated apple,sugar and grated coconut. stir until sugar melts completely.
Add lime juice,ginger juice, cardamom powder to it and mix.
Once the apple mix is dry,add condensed milk to it.When the mixture will thicken and leaves the sides of the pan remove from heat and quickly spread evenly in a pan..
Press cashewnuts on top of burfi and let it cool.Refrigerate for at least 1 hour before removing from pan
once it is cool, cut into desired shapes.
Refrigerate in a air tight container  for upto  3 days.
If you want a colorful burfi, you can add green or any other color mixed with milk to it.