My 200th Post- Paneer Tikka Kathi Rolls
Even though it is belated, wish you all a happy and prosperous 2011.hope all your dreams and resolutions comes true.I am going to start the new year with my 200th post.These paneer rolls are made with Paneer and vegetable filling.This filling is rich in vitamins and minerals and the calcium packed marinade adds an extra zing to this recipe.Chappati made with Whole wheat flour which  is a good source of iron and fibre is more healthier as compared to the usual plain flour(maida) rotis. you can have this in your tiffin and enjoy this as a complete meal.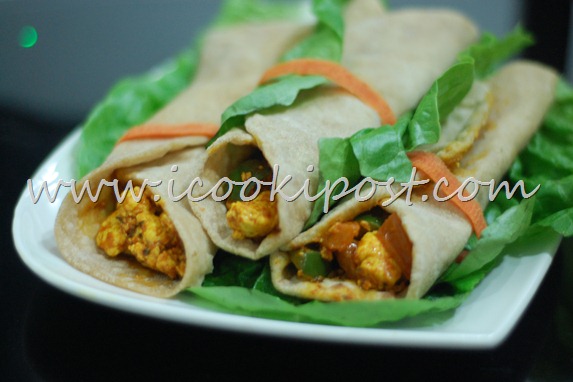 Ingredients
For the Paneer Tikka Filling
Paneer(cubed) – 1 cup
Tomatoes(deseeded and diced) – 1/2 cup
Capsicum (diced) – 1/2 cup
Oil- 1 tsp
To be mixed into a Marinade
Curd(beaten) – 1/4 cup
Chilly Powder – 1tsp
Turmeric powder – 1/4 tsp
Ginger-garlic paste – 1tsp
Besan(chick pea flour)- 1/4 tsp
Chaat Masala – 1/2 tsp
Kasoori methi(dried fenugreek leaves) –1/2 tsp
Garam Masala- 1/2 tsp
Salt – to taste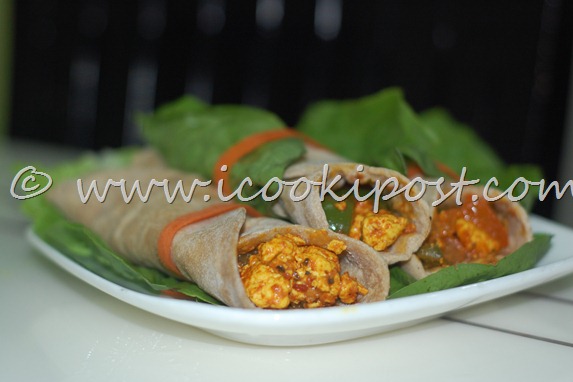 Preparation
For the paneer tikka filling,add paneer and tomatoes to the prepared marinade and toss lightly.Leave aside for 10 minutes.
Heat oil in a non-stick pan,add capsicum and saute for 2 minutes.
Add the paneer mixture and saute over a high flame for 4 to 5 minutes,stirring occasionally.
To make chappathi, combine 1 cup of wheat flour,3/4 cup of milk and salt. Knead into a soft dough.Divide the dough into 9 equal portions. roll out each portion into a thin chapathi.
cook each chappati on a griddle (tava) on both sides.
Divide the paneer tikka filling into 9 equal portions.
Spread one portion of the filling in the centre of each chapati and roll up tightly.
When you want to serve ,cook the rolls on a griddle.
Wrap each roll in a lettuce leaf and a scooped carrot to hold the roll together.
Paneer tikka rolls looks great and ready to serve.
Recipe Source:Cooking with 1 Teaspoon of oil by Tarla Dalal.