Baby Corn Spinach Masala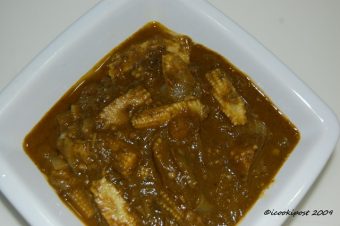 Ingredients:
Spinach(palak) – 2 bunch
Baby Corn – 10
Onion(chopped) – 2
Ginger-garlic paste – 1 1/2 tbsp
Tomato – 2
Green chilly(chopped) – 3
Cumin(jeera) powder 1/4 tsp
Red chilly powder – 1 tsp
Garam Masala powder – 1/2 tsp
Cashew nuts – 5
Salt
Oil
Preparation:
Soak cashew nuts in warm water and grind it to a fine paste.
Clean and blanch spinach .make a paste of it.
Heat oil in a pan. Add chopped onions,ginger garlic paste,green chilly and saute well
Add tomato paste and red chilly powder to it and mix.
Once it is done, add spinach paste,cumin powder,garam masala powder, salt to it add boil with required amount of water.
Once it starts boiling, add baby corn to it .cover and cook for 5 minutes.
Once gravy becomes dry, add cashew nut paste to it and boil again for 5 more minutes on low flame.
Serve with Roti.
Recipe courtesy: Lakshmi Nair