Bajjichilly Masala/Bajjimulaku Masala
Bajji Mulaku or Long green chilly are not so spicy as the normal chilies. I tried making curry using these chilies and it turned out great, better than I expected.

This is a great combo with Roti.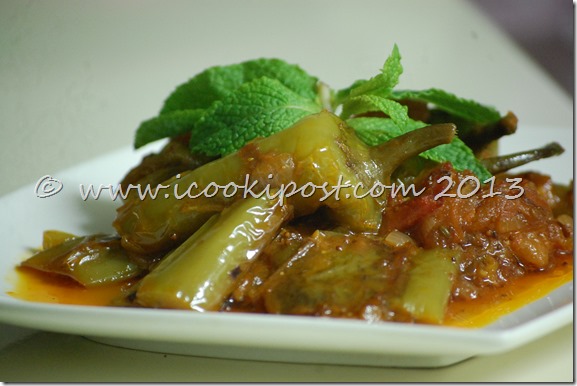 Ingredients
Bajji Mulaku/Bajji Chilly(Long Green Chilly) – 4
Onion(chopped) – 1
Tomato (chopped) – 1/2 cup
Garlic (chopped) –1 tbsp
Ginger (chopped) – 1tsp
Kashmiri Red Chilly Powder – 1  tsp
Turmeric Powder – 1tsp
Cumin seeds –1 tsp
Mustard seeds – 1/2tsp
Fenugreek seeds – 1 tsp
Fennel Seeds – 1tsp
Pudina Leaves (finely Chopped) – 1/2 tsp
Sugar – 1 tsp
Water- 1/4 cup
Salt
Oil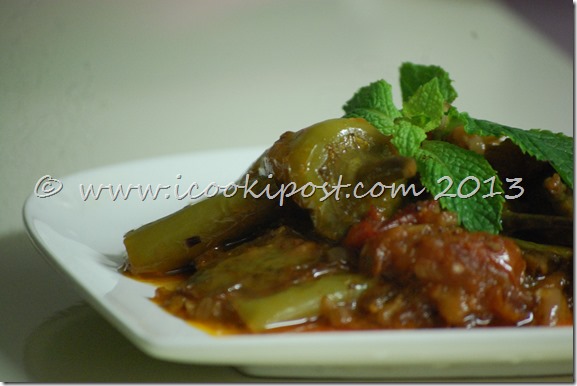 Preparation
Slit the chilies lengthwise and remove the seeds.Marinate with salt and turmeric powder for 20 minutes.
Grind mustard seeds, fenugreek,fennel seeds,red chilly powder,cumin seeds and pudina leaves into a paste
Heat oil in a pan.Saute the chilies  in oil for 2-3 minutes.Transfer into a bowl.
In the remaining oil, fry chopped onions till golden brown.Once it is done, add chopped garlic ,ginger,chopped tomatoes and saute well.
Add spice paste to it and mix well.Add salt and water to it.Let it boil.
Finally add bajji chilly to it and mix well. Cover and cook for 2 minutes.
Add sugar to it and stir well.
Remove from fire.
Serve with Roti.