Shabnam Curry
Shabnam  curry is quite popular in mughal cuisine.This is prepared using mushrooms and green peas in cashew nut paste and spices .This recipe is adapted from "The New Curry secret" by Kris Dhillon.i have already tried some of the recipes from this cook book and will post it soon.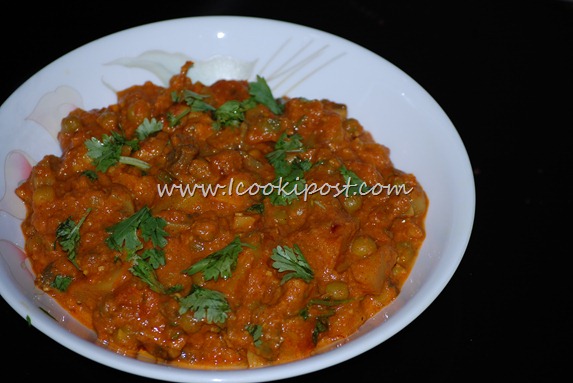 Ingredients:
Button Mushrooms – 250g
Potato(medium) – 2
Tomato(chopped) – 3
Onion(chopped) – 2
Ginger-garlic paste – 1tbsp
Green Peas – 125g
Turmeric powder – 1tsp
Cashew nut paste – 2tbsp
Garam Masala – 1/2 tsp
Chilly Powder – 1tsp
Coriander powder- 1tsp
Coriander leaves – 1 tbsp
oil
Salt – 1tsp
Preparation:
Peel and boil potatoes in boiled water until tender.
Heat oil in a pan. saute chopped onions , 1 chopped tomato,ginger-garlic paste.grind into a fine paste.
Heat oil in a pan.Add remaining chopped tomatoes and salt. stir fry for 5 mins until tomatoes are tender,pulpy and oil has separated from the mix.
Add coriander powder, red chilly powder,turmeric powder and fry fro a minute. Add boiled green peas,mushrooms and stir fry on medium heat for 5 minutes.
Add onion paste,boiled potatoes and bring it to boil. cook on low flame for  5 minutes stirring now and then.
Add cashew nut paste and garam masala powder and simmer for another 3 mins stirring often. Turn off the heat.
Garnish with coriander leaves.
Serve with roti.