Carrot Balls
Carrot balls are prepared using grated carrot, milk powder and sugar.Rolling the balls in sweetened shredded coconut adds extra sweetness to the carrot balls.This looks similar to Turkish carrot balls.This is a perfect healthy sweet treat for little kids.My hubby and kids really loved this and it was finished off within next day.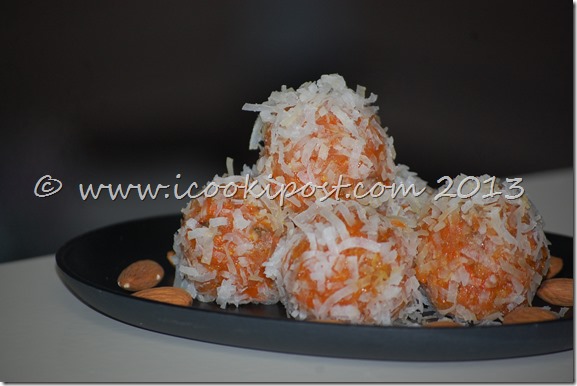 Ingredients
Grated Carrot – 2 cups

Sugar – 3/4 cup

Milk Powder – 1/2 cup

Sweetened dried coconut  – 1/4 cup

Almonds

Ghee – 1 tbsp
Preparation
wash carrots and peel off the outer skin.Grate the carrots.

Heat a pan.Add grated carrot and little water to it.Cover and cook till soft. stir in between not to get burned.

once carrots becomes soft, add sugar to it and mix well. stir well to get a dry mixture.

Remove from fire and let it cool.

Add milk powder and ghee to the carrot mix.Mix well.

Take a handful of the mix and place a almond inside.Make balls out of the mix.

Spread sweetened coconut in a plate. Roll the carrot balls in the coconut mix.

Keep in the refrigerator for 15- 20 minutes.

Serve it.