Unnakaya/Kayyada/Stuffed Bananas
Unnakaya is a popular Malabar snack and it is prepared with boiled and mashed  banana stuffed with coconut, sugar and nuts and then deep fried in Oil.This snack resembles the shape of unnakaya  which means cotton pod and hence the name. This is a traditional Muslim dish prepared during Malabar weddings and festivals like Ramzan.Normally in traditional recipe, scrambled eggs are added to the stuffing. But I didn't add it as I don't like egg in grated coconut

.This is a healthy snack for kids and my little one who is a fussy eater liked this snack a lot.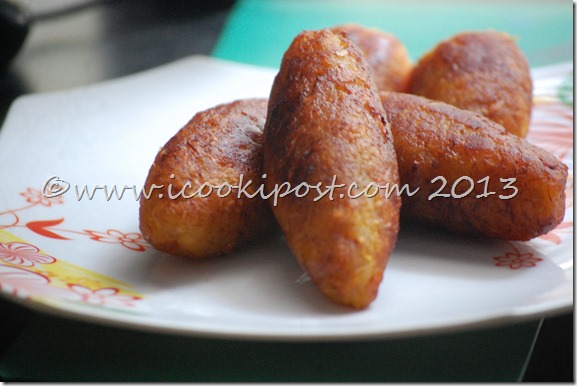 Ingredients
Plaintain/Nentrapazham (medium ripe) –2

Grated Coconut – 1/4 cup

Cashewnuts – 1tbsp

Raisins – 8

Sugar – 5tbsp (or add according to your taste)

Ghee – 1 tbsp.

Cardamom Powder – 1tsp

Coconut Oil – for frying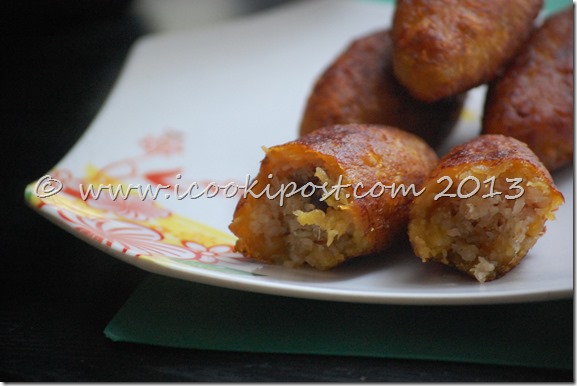 Preparation
Steam cook bananas on medium flame till bananas are soft.Remove the outer skin and cut into halves. Discard the inner black seeds. Mash well using a wooden spoon without any lumps.The consistency should be thick.If it is too sticky, add little rice flour to it and mix well to get a thick dough like consistency. Keep aside.

Heat ghee in a pan. Add cashew nuts, raisins, grated coconut and sugar to it.Let it sauté on low flame .Add cardamom powder to it.Stir well. Remove from fire and allow to cool.

Divide the mashed bananas into evenly sized lemon balls.Rub oil on your palms.Take one ball in your left hand and flatten it  by pressing using other hand to form a circle shape.

Place 1 tbsp of coconut stuffing in the center and seal it properly by bringing all the sides of the mix.

Shape into cylindrical or oval shapes(as seen in the pic)

Heat oil in a kadai.Deep fry bananas till golden yellow in color.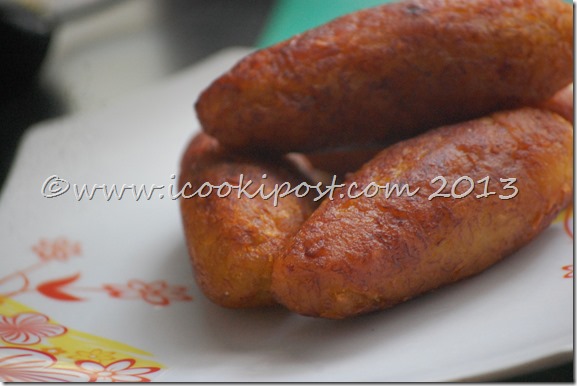 Yummy Unnakaya is ready to serve.