Carrot Dates cake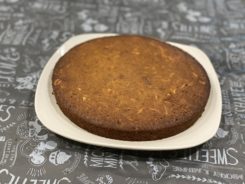 Ingredients
For Caramel syrup
Sugar – 1/2 cup
warm water – 1/2 cup
For the cake
Maida- 1 cup
Baking soda- 1/2 tsp
salt – a pinch
Eggs -2
vanilla essence- 1/2 tsp
Powdered sugar -1/2 cup
vegetable oil – 3/4 cup
cinnamon powder – 1/4 tsp
Grated carrot – 1 cup
Dates(chopped) – 1 cup
cashew nuts – 1/4 cup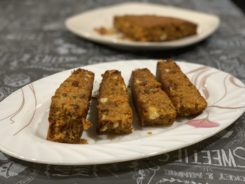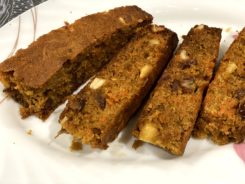 Preparation
For caramelized sugar syrup, melt sugar in a pan. once it melts completely add warm water to it and let it boil for 5 minutes.The syrupwill turn into dark brown in color.
In a bowl,sift maida.add baking soda and salt.
In another bowl, add eggs and beat well.Add powdered sugar, vegetable oil,vanilla essence and cinnamon powder.
Add caramel syrup, grated carrot, dates and mix well.
Add cashew nuts to it.
Add maida mix to it. Stir well
Transfer into a cake pan .bake at 375 degreeF/180 degree c for 30 minutes.
Let it sit on cooling rack.Once it is cool, cut into pieces.
click the link below for full video preparation.