Carrot Pickle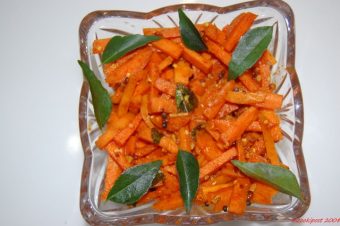 Ingredients:
Carrot (cut lengthwise) – 4 cups

Chilly powder – 2 tsp

Turmeric powder – 1 tsp
Asafoetida powder – 1 tsp
Fenugreek seed powder – 1/4 tsp
Fenugreek seeds – 1/4 tsp
Mustard seeds – 2tsp
Curry leaves
Vinegar – 2 tsp
Lime juice – 1 tsp
Salt
Water – 1 1/2 cup
Gingelly oil – 1/4 cup
Preparation:
Marinate carrot with 1tsp chilly powder,turmeric powder,asafoetida powder,fenugreek powder,salt and keep aside for 1 hour.
Heat oil in a pan.splutter 1 tsp mustard seeds,fenugreek seeds,curry leaves and add 1 tsp chilly powder to it and saute well.
Add water to it and once it starts boiling turn off the fire.
Add vinegar, limejuice and salt to it and mix well.
Once it is cool,  add carrot pieces and mix .
Finally add powdered mustard to it.
Shake well and store in an air tight container.
Give it 3 to 4 days before start consuming
As we do not use any preservatives in this pickle, I suggest your keep your pickle in a refrigerator.
(Use of coconut oil is not recommended due to refrigeration)