Cheera Aviyal/Red Amaranth Leaves Aviyal
Aviyal is prepared using  mixed vegetable cooked in curd and coconut paste.This cheera aviyal is an easy preparation of Kerala style aviyal using red amaranth leaves,Drumstick,Raw mango,Cucumber and jackfruit seeds.Do try this different variety of aviyal for festivals like onam or vishu.hope you all enjoy it.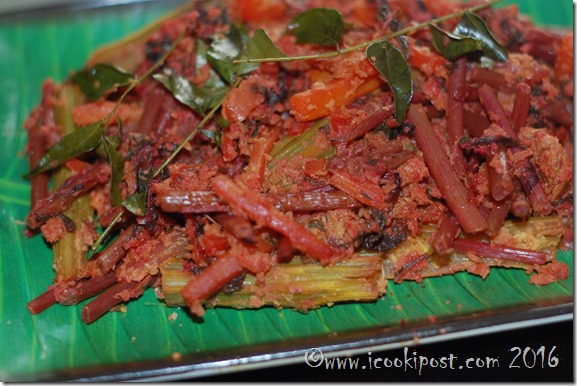 Ingredients
Red Amaranth Leaves(chuvanna cheera,Red spinach) – 2 cups
Red Amaranth Stem (lengthwise) – 1 cup
Cucumber (cut lengthwise) – 2 cups
Jackfruit seeds (Chakkaakuru) (cut lengthwise into two) – 1 cup
Raw mango(cut lengthwise) – 1 cup
Grated Coconut – 1 1/2 cup
Green chilly – 1
shallots – 2
Cumin seeds – 1 pinch
Turmeric powder – 1/2 tsp.
Red chilly powder – 1tsp
Salt
Coconut oil – 1 tbsp.
Curry leaves – 1 sprig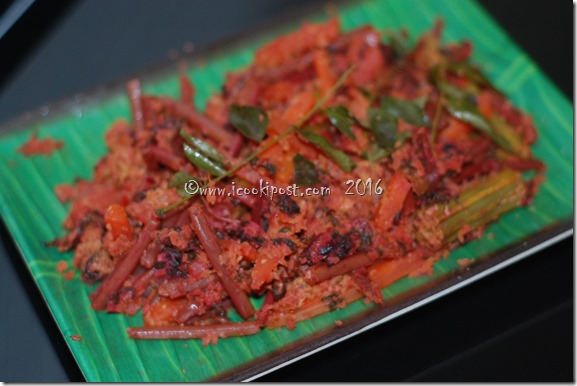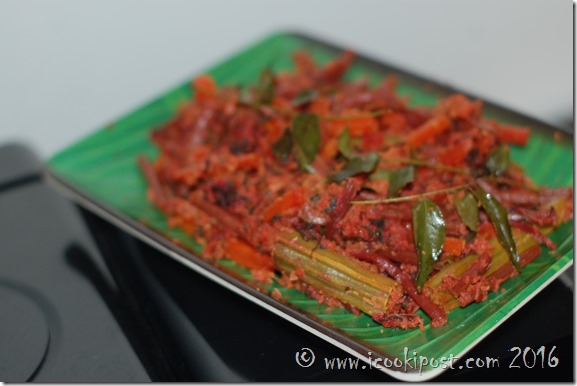 Preparation
Boil 1 cup of water in a pan and cook vegetables like cucumber,red spinach stem.jackfruit seeds.Cover with a lid and cook till all veggies are soft.In the mean time, make a coarse paste of grated coconut,red chilly powder ,green chilly,turmeric powder,cumin seeds and shallots.
once veggies are done,Add spinach leaves to it and cook for only 5 minutes as leafy vegetables takes less time to cook.
Add mango pieces to it and mix well.Add coconut paste and salt.
cover and cook on low flame for another 5 minutes. Remove from fire.
Add coconut oil and curry leaves to it.Mix well.
Aviyal is ready to serve as side dish for rice or Porridge.