Shallot (Small Onion) Sambhar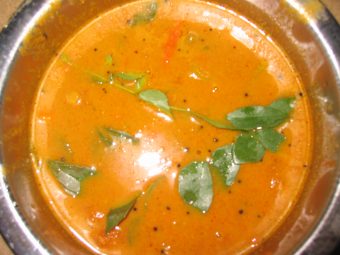 Ingredients:
Toor daal – 1/2 cup

Tamarind(a lemon sized) pulp

Turmeric powder – 1/2 tsp

Chilly powder – 1/2 tsp

Curry leaves – a few leaves for garnishing

Salt to taste

For Masala Paste:

Fenugreek Seeds – 1/4 tsp

Asafoetida Powder – 1/2 tsp

Cumin Seeds – 1 tsp

Coriander Seeds – 3 tbsp

Urad daal – 1 tsp

Chana daal – 1 tsp

Grated Coconut – 1/4 cup

Shallots(small onion) peeled – 250 g

Coconut Oil – 2tsp
For Temepring:

Coconut Oil – 2 tbsp

Mustard – 1tsp

Cumin Seeds – 1 tsp

Fenugreek Seeds – 1/4 tsp

Dry Redchillies – 2

Curry leaves

Preparation:

Pressure cook toor daal and set aside without draining. 

Soak the tamarind in 1/2 cups of hotwater for 15 mins.strain tamarind water into another container squeezing as much liquid as possible out of the pulp.

Discard pulp and set the juice aside.

For masala paste, heat 2 tsp oil in a heavy pan.

Add fenugreek,asafoetida,cumin,coriander,urad daal,chana daal,4-6 shallots, and grated coconut
Saute for 2-3 mins.
Blend it into a paste with a little water.
Heat 2 tsp oil in a kadai.
Add mustard seeds,cumin,fenugreek,halved red chilly and few curry leaves. When mustard starts spluttering, add remaining shallots.
Saute over low heat for about 3 mins.
Add tamarind juice,ground turmeric and salt to taste.cover and simmer for 5-7 mins until the raw smell of tamarind disappears.
Add undrained cooked daal and coconut masala paste.
Cook for another 5 mins until thoroughly blended .
If the sambhar is too thick, add 1/4 cup of water and bring to boil.
Garnish with curry leaves.