Dhania Paneer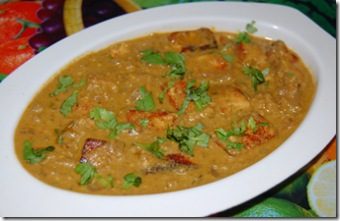 Dhania Paneer is paneer cubes cooked in thick and colorful gravy. This recipe is adapted from Nita Mehta's "Great Indian Cooking" with little changes.
Ingredients:
Paneer (cut into cubes) – 200 gms
Cashew nuts (soak in warm water for 15 mins and grind to a paste) – 2 tbsp
Onion (Big,finely chopped) – 1
Ginger-Garlic Paste – 2 tsp
Coriander powder – 1 tsp
Milk – 1 Cup
Red Chilly Powder – 1/2 tsp
Garam Masala – 1/2 tsp
Coriander leaves(Chopped,for garnishing) – 2 tbsp
For Making Coriander Paste:
Coriander leaves (Chopped) – 3/4 cup
Green Chilly – 2
Fennel seeds – 1 tbsp
Milk – 1/2 cup
Preparation:
Cut paneer into small square cube shape and deep fry until golden brown. Let the paneer cubes soak in warm water for a while to make it further soft.
Grind all the ingredients given under coriander paste into a thin paste in a mixer grinder.
Heat 4 tbsp oil in a kadai. Add chopped onions and fry till golden brown.
Add Ginger-Garlic paste and stir till done.
Now add the prepared coriander paste and cook for 2-3 mins on medium flame .
Add Red Chilly powder,Garam Masala Powder,Coriander powder and salt.
Then Add the cashew paste. Mix well.Keep scraping sides if Masala sticks to the sides/bottom of the kadai. Stir continuously till Masala leaves oil.
Add 1/2 cup of water. Boil and stir occasionally.
Now Add the remaining 1/2 cup milk and mix well. Then Add paneer cubes, stirring continuously on low heat for 5 mins.
Garnish with Chopped Coriander leaves.Serve hot with chapathi or Naan.