Vishu Special – Olan and Koottu Curry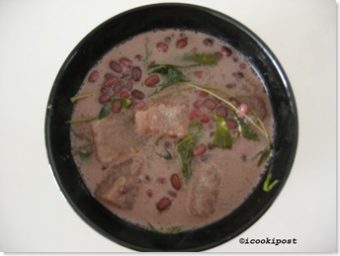 Ingredients:
Cow peas ( vanpayar) – 100gms
Winter melon(Kumbhalanga) – 200gms
Green Chilly (slit lengthwise) – 2
Coconut milk -1/4 cup
Curry leaves
Salt
Preparation:
Soak cowpeas overnight .
Peel and cut kumbhalanga into medium pieces.
Pressure cook peas till soft.Add kumbhalanga pieces to it and cook till done.
Then add coconut milk and boil on low flame for 2-3 mins
Remove from heat.Add coconut oil to it.
Garnish with curry leaves.
Malabar Koottu Curry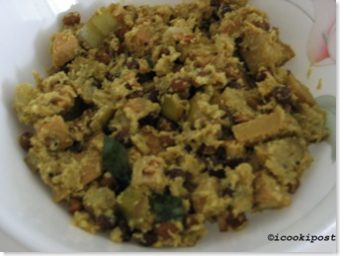 Ingredients:
Black chick peas(kadala) – 100gms
Raw plantain (medium) – 2
Elephant Yam (chena) – 200gms
Grated coconut – 1/2 cup
Cumin seeds(jeerakam) – 1/2 tsp
Turmeric powder – 1 tbsp
Green chilly -2
Ginger (cut into small pieces) -1/2 inch piece
Mustard seeds – 1/4 tsp
Dry red chilly – 3
Curry leaves 1 sprig
Sugar – a pinch
Urad dal -1/4tsp
Coconut pieces (thinly sliced ) – 1tbsp
Salt to taste
Coconut oil
Preparation:
Soak kadala over night.Next day pressure cook with little salt and keep aside.
Grind grated coconut together with jeera,turmeric powder into a coarse paste.
Peel yam,plantain and cut into medium slices
Cook the veggies with green chilly,ginger, salt and water till soft.
Add the cooked chick peas to it.
Add the coconut paste to it and mix well.
Turn off the stove.Add sugar to it and stir well.(or u can use jaggery for sweet taste)
For tempering, heat oil in a pan.Splutter mustard seeds.Add urad dal,dry red chilly, curry leaves ,coconut pieces to it and fry till light brown in color and add this mix to the curry.
Serve warm with rice.