Dragon Fish
Dragon chicken is popular in Chinese cuisine and this time I tried using fish instead of chicken. it came out really good.It can be served as Appetizer for parties or with fried rice .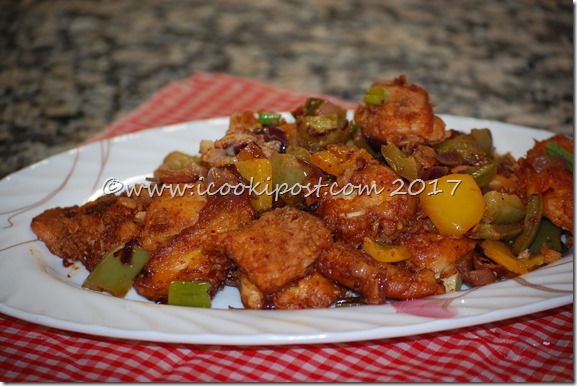 Ingredients
Fish Fillet – 250 gms
Egg –1
Pepper powder-1/4 tsp
Ginger-garlic paste- 1/12 tsp
All purpose flour/Maida – 2 tbsp
Corn flour – 2 tbsp
Onion(cut into cubes) – 1
Ginger(chopped) –1 tsp
Garlic (chopped) – 1tbsp
Capsicum(Green & yellow, cut into cubes) –1
Green Chilly – 3
Red Chilly flakes or Red chilly paste – 1 1/2 tbsp
Tomato Ketchup – 1 tbsp
Soy sauce – 1 tsp
Chilly Sauce – 1 tbsp
Celery(chopped) – 1 tsp
Spring onions(chopped) – 1 tbsp
Oil
Salt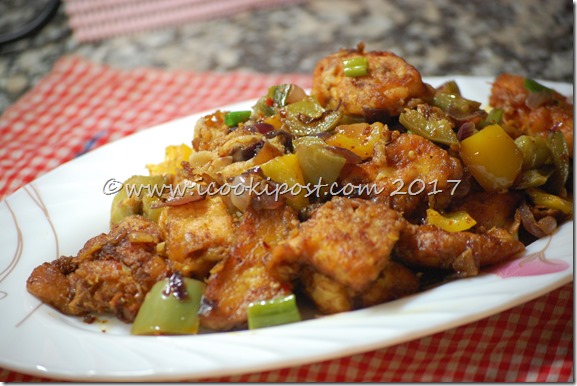 Preparation
Cut fish into medium 1 " pieces.
In  a bowl ,add maida,corn flour,ginger-garlic paste,salt,pepper powder and egg.Mix well using little water to get a thick batter.
Heat oil in a Pan for frying.Dip the fish pieces in the batter and fry till light brown in color.
In another pan,add 2 tbsp oil(use the same oil used for frying).
Saute chopped onions,green chilly,ginger-garlic and once it is done,add chilly paste,chilly sauce,tomato ketchup and soy sauce.
Add fried fish to it and mix well to get coated.
check for salt and add if needed as soy sauce is salty.Add little water and stir well and cook for 2 minutes.
Finally add celery and chopped spring onions.
Remove from fire.
Dragon fish is ready to serve with fried rice.