Chemmeen Theeyal-Konchu Theeyal-Shrimp Theeyal
its been long time since I posted new recipe on my blog. Being a homemaker, nowadays I am busy with kids and other activities.Few years back,there used to be a time when I post weekly and now I really feel  bad for not updating it regularly.
Today I am going to share a easy and authentic Kerala recipe prepared using prawns.Hope all seafood lovers will definitely like this spicy and yummy curry.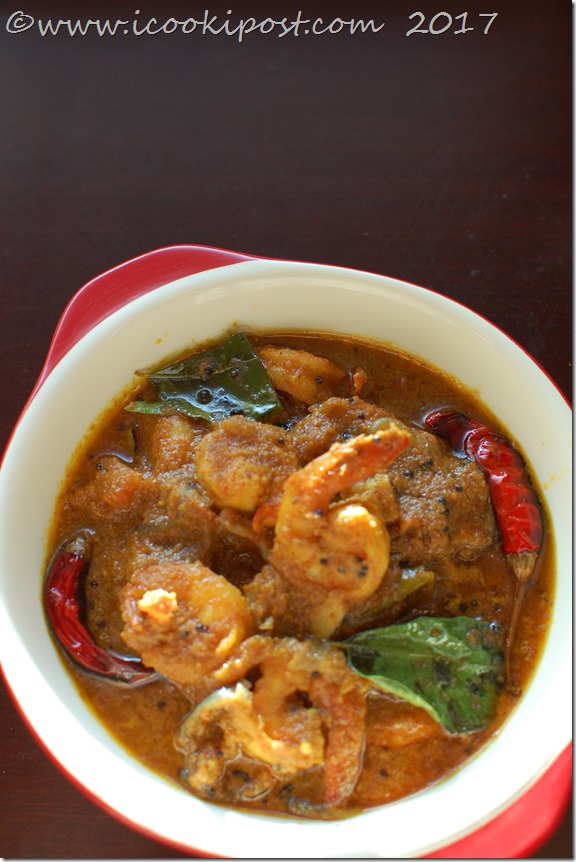 Ingredients
Prawns(deveined) – 500 gms/1 lb.
Shallots – 15
Tomato(cut into medium pieces) –1
Green chilly(slit lengthwise) –3
Grated coconut – 1/2 cup
Turmeric powder – 1/4 tsp
Red chilly powder – 2 tbsp
Coriander powder –1 tbsp
Fenugreek powder(uluva podi) –1 pinch
Mustard seeds – 1/4 tsp
Snakegourd(padavalanga,cut into small pieces) – 1 small piece
Coconut bits(thengakothu) –1 tbsp
curry leaves – 1 sprig
Dry Red Chilly -2
Oil
Salt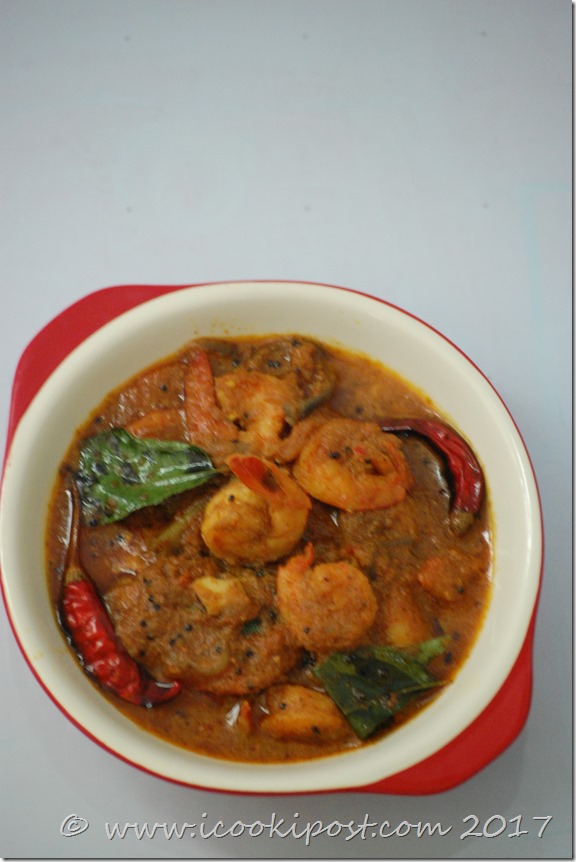 Preparation
Heat a Manchatti(clay pot) and cook prawns with 1tbsp red chilly powder,turmeric powder,salt ,little water.cover and cook for 5 minutes on medium flame till prawns are cooked well.keep aside
Heat a pan and roast grated coconut till brown in color. Add 2 shallots , 1 tbsp red chilly powder,1 tbsp coriander powder,a pinch of fenugreek powder to it. Mix well and remove from fire.
Grind the above mix without adding water.
Heat coocnut oil in another pan.Saute the remaining chopped shallots,green chilly,snake gourd pieces,coconut bits ,turmeric powder(a pinch),and salt.once it is done add chopped tomato pieces to it.
Add coconut paste,boiled prawns to it and mix well.
Add required amount of water to it.Check for salt.
For seasoning ,Heat a pan and splutter mustard seeds,dry red chilly and curry leaves and add it to the spicy gravy.
Konchu theeyal is ready to serve with Rice.