Bread Gulab Jamun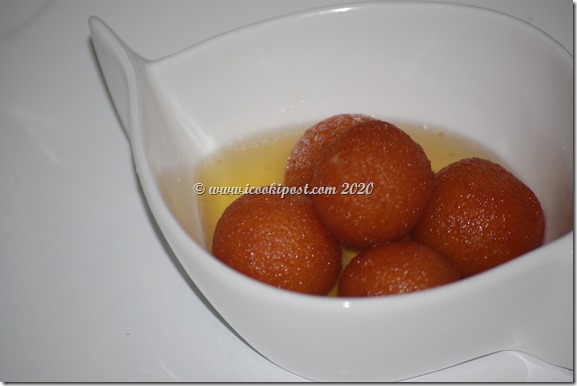 Normally I make gulab jamun using maida and milk powder.This time I tried with bread slices and it tasted good.
Ingredients
Bread(white bread) – 5 slices
Milk – 4 tbsp
Milk powder – 2 tbsp
Sugar – 2 cups
Water – 2 cups
Cardamom powder – 1 tsp
Oil
Almonds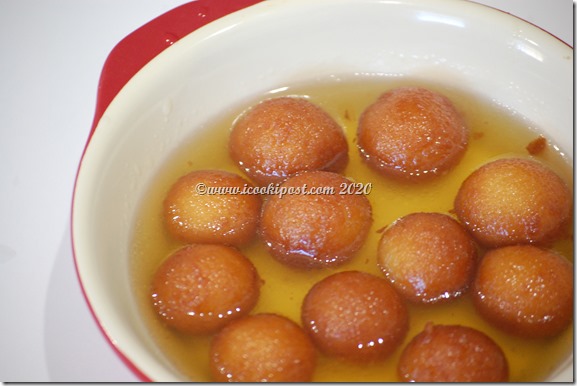 Preparation
Take bread slices and cut the edges.Break them into pieces.Grind into a powder.
Transfer into a bowl.Add milk powder,milk little by little and knead well into a  soft dough.
cover and keep aside for 10 minutes.
To make sugar syrup,boil sugar and water .Once sugar melts,boil on medium flame for another 5 minutes till you get a  sticky consistency.The syrup  should not be watery.
Switch off the flame .Add cardamom powder to it.
For making jamuns, make balls and flatten .Place a almond in the center and seal the edges together.Gently roll into a soft ball without any cracks.
Heat oil in frying pan.Gently place the balls and fry on medium flame till it turns golden color.Remove with a slotted spoon.
Place them on kitchen paper to remove excess oil.
Add  the fried balls into sugar syrup.The sugar syrup should be warm.
soak the jamuns in sugar syrup for 2 hours.
Refrigerate and serve it .
For the preparation video pls click the link below
https://www.youtu.be/K1KDkAqxmYE