Gobhi Bhare Tamatar(Stuffed Tomato with Cauliflower Filling)
Gobhi Bhare tamatar is tomatoes stuffed with cauliflower filling and the filling is sealed with gram flour coating.This recipe is adapted from Nita Mehta's cook book and it goes great with rice or roti as a side dish.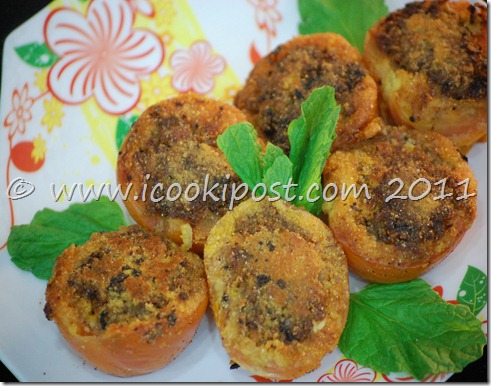 Ingredients
1.Tomatoes(cut into Halves) – 5
For the Filling
Cauliflower(medium,grated) – Half piece
Paneer(chopped finely) 50 gms
Cumin seeds(jeerakam) – 1/2 tsp
Ginger(finely grated)-1/4"
Red chilly powder – 1/4 tsp
Garam Masala – 1/2 tsp
Amchoor powder –1/4 tsp
Cashewnuts(chopped) –2 tbsp
Raisins – 1 tbsp
Sugar-1/4 tsp
Salt
Besan(Gram Flour) –3 tbsp
Orange color – a pinch
Ajwain(carom seeds) – a pinch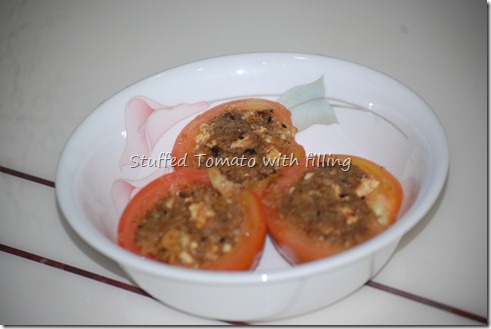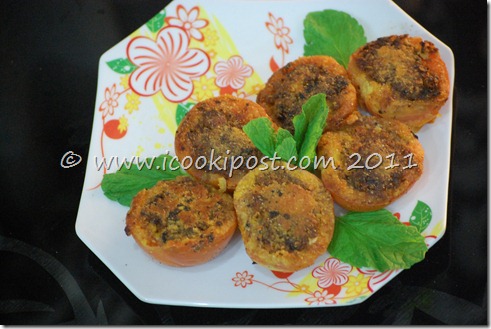 Preparation
In a Kadai,heat 3 tbsp oil. Add cumin seeds and when it turns golden,add grated ginger and saute for a minute on low flame.
Add salt, red chilly powder,garam masala powder and amchoor powder.Add cashewnuts and raisins.stir for a few seconds.
Add grated cauliflower to it and mix well.Add sugar and cover and cook for about 10 minutes,stirring frequently till the cauliflower is cooked well.
Add chopped paneer and gently mix .Remove from fire.
Cut firm tomatoes into half.Scoop out the pulp.Rub a little salt inside and keep them upside down for 15 minutes.
Fill with cauliflower filling.Press well.
Spread besan in a plate.add  a pinch of orange color,salt,and ajwain.Holding the filling side up,invert the tomato in the besan to coat the top of the filling.
Heat 2 tsp of oil on a tawa. Invert the tomato in hot oil on the tawa with the filling side down.
Turn after a minute to slightly cook the other side too.
Keep on fire for a short while or the tomatoes turn limp.
Turn when the side is done.
Serve Hot as a side dish.