Karikku Masala/Elaneer Masala ( Tender Coconut Masala)
Kerala is the land of coconut trees and the coconut tree is called kalpa vriksham, which essentially means all parts of a coconut tree is useful in some way or other.Tender coconut juice is nutritious and the pulp  is used for making pudding or spicy curry. Karikku Masala is prepared using Tender coconut pieces in a spicy masala gravy.Hope you all will love this spicy masala recipe of tender coconut.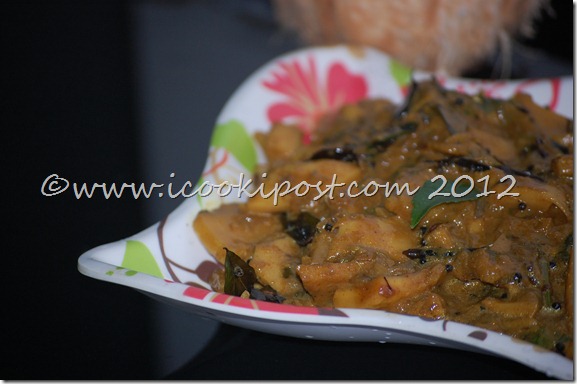 Ingredients
Karikku (Tender coconut) – 1
Grated Coconut( To extract coconut milk) – 2 cups
Onion (chopped,medium) – 1
Shallots – 4
Ginger- garlic paste- 1 tbsp
Green Chilly(cut length wise) –1
Turmeric powder – 12 tsp
Kashmiri Red chilly powder – 1 tsp
Coriander powder – 1/2 tsp
Garam Masala Powder – 1/4 tsp
Pepper Powder – 1/4 tsp
Kasoori methi – 1/4 tsp
Mustard seeds – 1/4 tsp
Cumin seeds (jeerakam) – 1/4 tsp
Curry Leaves
Coriander leaves
Oil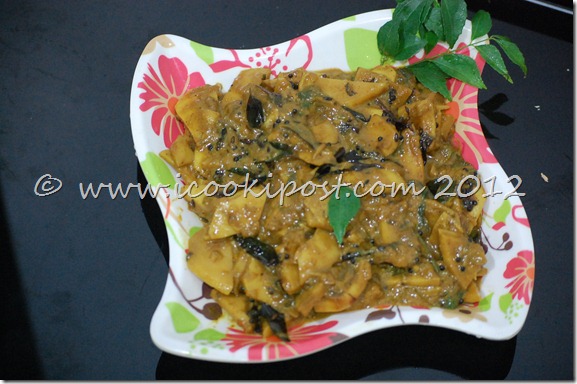 Preparation
Scoop out the pulp and cut into small pieces.Extract thick coconut milk by grinding grated coconut in a mixer with out adding water.This is the first extracted milk. Again grind the extracted fiber by adding 1 1/2 cups of warm of water and strain.This is second extracted milk.
Heat oil in a pan. Saute chopped shallots,onion,ginger garlic paste and  green chilly.Add tender coconut pieces to it and fry for 3-4 minutes.
Add all the masala powders (before adding, mix the powders with water to a paste to avoid burning) to it and mix well.
Add 2nd extracted coconut milk to it and let it cook for sometime.
Once it is cooked well,add thick coconut milk,coriander leaves,kasoori methi and salt.Stir well.Don't let it boil.Remove from fire.
Heat oil in another pan. Splutter mustard seeds,cumin seeds and curry leaves. Add the seasonings to the gravy.
Garnish with Curry leaves.
This masala curry goes well with rice.