Potato Sagu Masala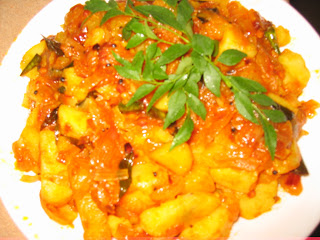 Potatoes-3

Green Chilly-2

Onion(chopped)-2

Mustard seeds-1 tsp

Bengal Gram Daal (urad dal)-1 tsp

Potato sagu masala-3 tsp

Lemon Juice-1/2 tsp

Curry leaves-as required

Ginger-1/2 inch

Salt-To taste
Cook, peel and mash potatoes and keep aside.

Heat oil in a pan and splutter mustard seeds and bengal gram daal.

Add chopped onions, green chilly ,ginger and saute till golden brown.

Add sagu masala, lemon juice and salt to taste.

Add mashed potato with water to get desired consistency and simmer for about 5 mins.

Garnish with curry leaves.

Serve with your favorite indian bread.