Godhambhu Payasam (Wheat Payasam)
Today is my hubby's birthday and so i made his favorite payasam to celebrate the special day.This payasam is prepared with broken wheat,coconut milk and Jaggery.This is a yummy and healthy payasam to serve during festivals like Onam,Vishu and I hope you all like it.
I wish all my wonderful readers a happy and prosperous Onam.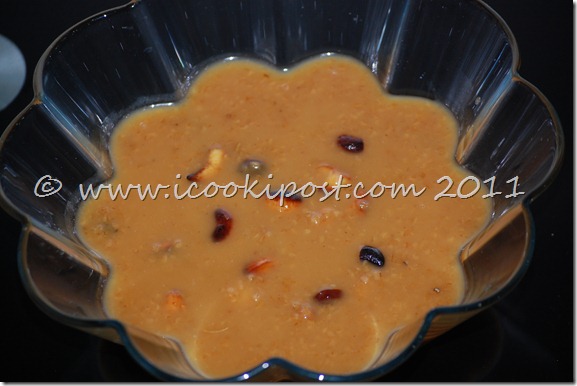 Ingredients
Broken Wheat(nurukku Godambhu) – 1 cup
Jaggery – 250gms
Thick Coconut milk(first extracted milk) – 1cup
Coconut milk(2nd extracted milk) – 2 1/2 cups
Cardamom powder(elakka) – 1 tsp
Dry Ginger powder(chukku podi) – 1/4 tsp
Jeera powder(jeerakam) – 1/4 tsp
Cashew nuts – 50 gms
Raisins – 50 gms
Ghee – 2 tbsp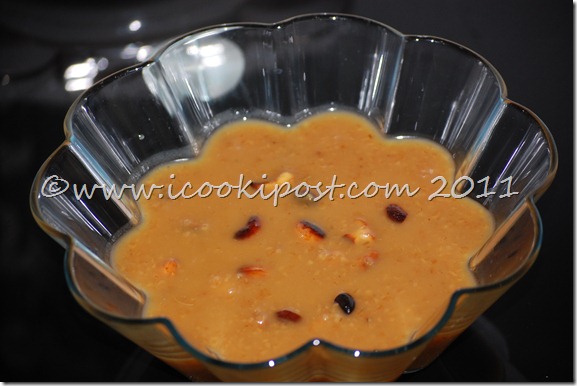 Preparation
Pressure cook broken wheat with 3 cups of water for 3-4  whistles or until wheat is cooked well.
To make jaggery syrup,melt jaggery in 1/4 cup of water and let it melt completely. Strain it to remove impurities.
Heat 1 tbsp ghee in a pan.Fry cashewnuts and raisins.Keep aside.
Heat a pan and transfer the cooked wheat mix into it.Add jaggery syrup to it and stir continuously till it is thick.While stirring,add remaining 1 tbsp ghee to it .
Add 2nd extracted coconut milk to it and let it boil for 2 minutes.Once it starts to boil, add thick coconut milk to it and mix well.After adding thick coconut milk,no need to boil. Remove from fire.
Add cardamom powder,dry ginger powder,jeera powder to it and stir well.
Garnish with fried cashews and raisins.
Serve warm.