Cauliflower-Soya Chunks Masala (Gobi-soya Masala)
Soy is high in Proteins and it is a good substitute for meat and contains no fat..This is a healthy and  spicy dry curry for rotis or rice.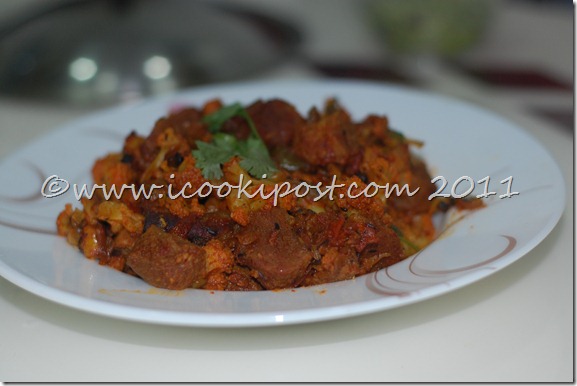 Ingredients
Cauliflower(medium,cut into florets) – 1 cup
Soya chunks – 1/2 cup
Onion(chopped) – 2
Ginger –Garlic Paste – 1 tbsp
Green Chilly – 2
Kashmiri Red chilly powder- 2 tsp
Turmeric powder – 1tsp
Coriander pwoder –1/2 tsp
Tomato(chopped) – 1
Pepper powder – 1/2 tsp
Cumin seeds(jeerakam) –1/4 tsp
Cloves – 2
Bay leaf –1
Cinnamon stick – 1/2" piece
Cardamom – 2
salt
Coriander leaves
Oil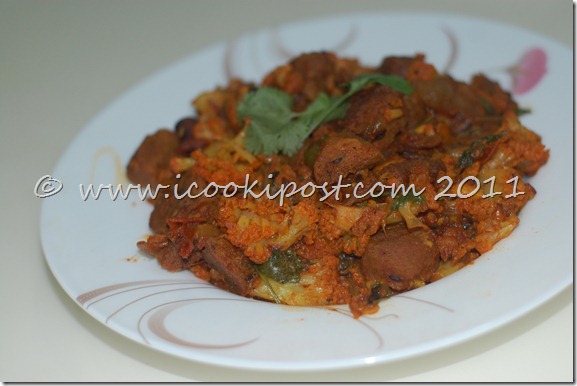 Preparation
Soak soy chunks in warm water for 10 minutes and squeeze out the excess water.
Chop cauliflower into florets and immerse in warm water(add a pinch of turmeric to the warm water) for 2-3 minutes to get rid of germs.
Heat oil in a pan. Add cumin seeds,cloves,bay leaf,cardamom and cinnamon stick.Let it splutter and once the aroma of fried jeera comes,add chopped onions,ginger-garlic paste  and saute till onion turns golden brown
Add chopped green chilly,chopped tomatoes to it and once tomatoes are soft,add red chilly powder,pepper powder , turmeric powder and coriander powder.
Mix well and once the oil starts to leave the pan,add soy chunks and cauliflower florets.Add salt to it and Stir well.
Add 1/2 cup of water to it.Cover and cook for 5-8 minutes till  veggies are cooked well.
Garnish with chopped coriander leaves.
Serve with rice or Roti
I am sending this to Veggie/ Fruit a Month Event for September- Cauliflower hosted by Priya and Tiffin Carrier Antiques.