Kerala Achappam (Rose Cookies)
Achappam is a traditional and authentic snack of Kerala.This snack is very popular among Christians and very significant during Christmas.It is crunchy and looks similar to Rosette cookies. "Achu" means mould and appam means something made with rice flour which is deep fried or steam cooked. As this is my first attempt, shape is a bit off, but tastes very good :-).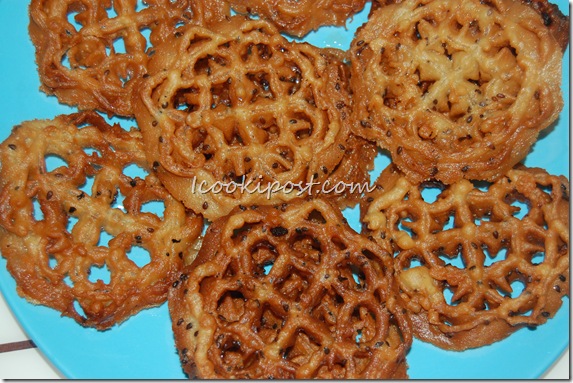 Ingredients
Rice Flour/Idiyappam flour (not roasted)– 500 gms/ 3 cups
Coconut Milk –  2  cups
Sesame seeds – 1 tsp
Egg –  2
Sugar – 4 tbsp
Coconut Oil
Preparation
Beat egg with coconut milk and mix.
Add rice flour, sesame seeds and sugar. Mix it well to make a thick batter like the one we usually prepare to make Dosa. Your batter should look something like in Step1.
Heat oil in a pan(Cheenachatty). Dip achappam mould in batter and immerse it into the piping hot oil. Leave the mould in the oil for 1 minute as in Step2. This will help the batter to coat properly and allow it to come out easily later.
Once it is hot, dip mould only 3/4 into the batter as in Step3.
Quickly lower it into the oil as seen in step 4. Usually it takes 2-3 seconds to get cooked. A Mild tap on the mould separates the appam.
Fry both sides until light brown. Remove from oil and place them on a tissue paper to drain excess oil.
It is important to repeat all Steps from 2 to 4 (pics above)with the remaining batter.
Store it in air tight containers.