Gulab Jamun (Milk Balls in Sugar syrup)
Gulab jamun is a popular dessert of India and it is commonly served during festivals like Diwali or marriage celebrations.Here I used milk powder for making dough.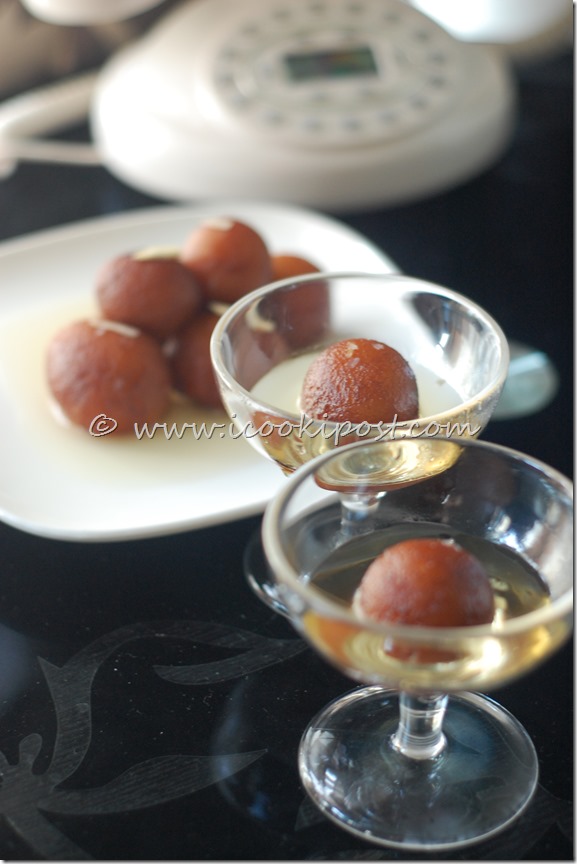 How to Make Gulab Jamun using Milk Powder
Ingredients
For the Sugar Syrup
Sugar –250gms/1 1/4 cups

Water – 11/2 cup

Cardamom Powder – 1/2 tsp

Rose water – 1 1/2 tsp

For the dough

Milk powder – 1 cup

All purpose flour(Maida) – 3 tbsp

Baking powder –1/4 tsp

Corn Flour – 2 tbsp

Ghee – 2 cups

Water – 3tbsp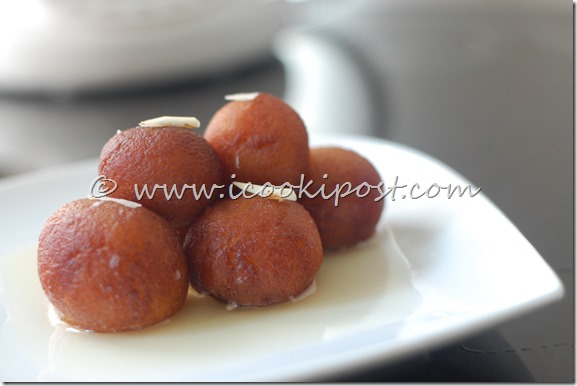 Preparation
Boil water in a small pot.Once it starts to boil,add sugar and let it dissolve.add cardamom powder,rose water to it and let it boil on medium flame for 3-4 minutes.remove from heat. Syrup is ready.

Mix together maida and baking powder.Add milk powder,corn flour ,water to it .Knead and make smooth dough.

Grease your palms with little ghee and shape into round balls.Make sure surface of the balls is free of cracks. 3.Heat the ghee in a frying pan on low flame.

4.Add the balls at the right temperature.Take a round sieved spoon and turn the balls by rotating the bottom edge of the spoon against the top of the balls.Keep rotating until the jamuns are golden brown in color.Remove ,drain and add to the hot sugar syrup.(heat the sugar syrup on low flame while frying jamuns) 5.Cook the jamuns in the sugar syrup for another 3 minutes on low heat.

Leave the jamuns in syrup for at least 30 minutes before Serving.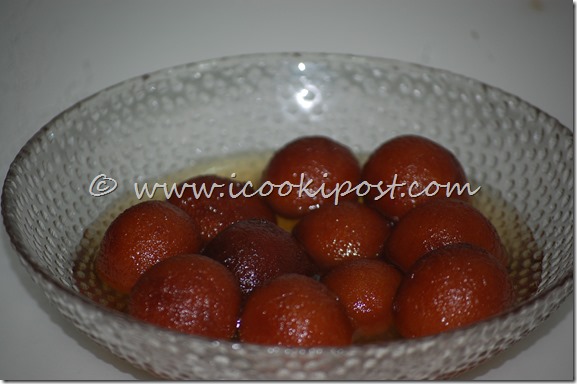 Tips: To test the right temperature of the ghee,add one ball.it should slowly rise to the surface from the bottom of the pan with a touch of spoon. If the jamun doesn't rise to the surface then the ghee needs to be more heated. if the jamun rises too fast and changes color,then the temperature is too high and heat needs to be lowered.Allow the ghee to cool down a while.Jamuns fried in hot oil will have their center uncooked and hard. If you don't have milk powder in your pantry, you can use pan cake mix for making dough. While frying, gulab jamuns will expand. So there should be enough space for the jamuns to get soak in the syrup.
Kala Jamun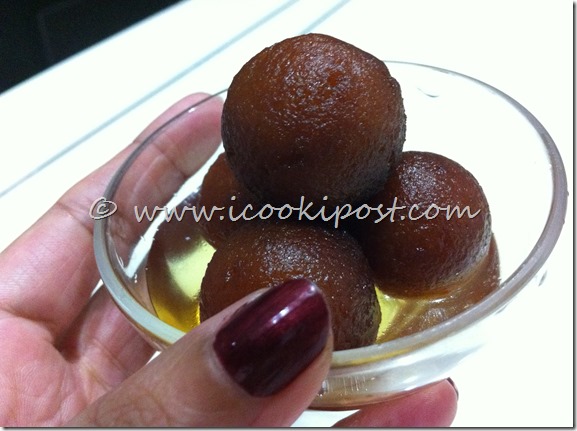 For making Kala Jamuns,fry the jamuns on low flame till you get dark brown color.