Jalebi/Crispy Jilebi/How to make jalebi
Jalebi is a popular sweet served during festivals like Diwali and it is considered as the national sweet of India according to Wikipedia.Kerala jalebis are prepared using urad daal and pour the batter into oil in circular shapes and then soak in sugar syrup.It is either served warm or at room temperature.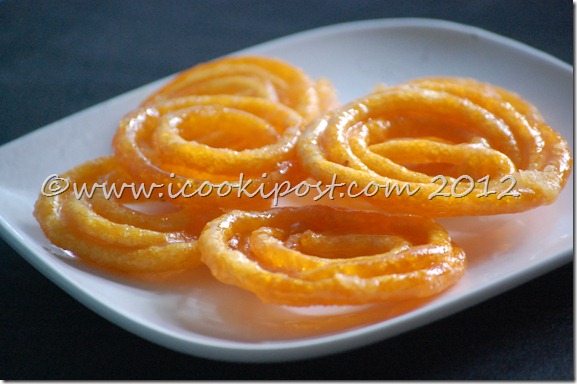 Ingredients
Urad dal (soak in water for 1 hour) – 1 cup
Sugar –2 cups
Raw Rice(pachari) – 1 tsp
Water(for making sugar syrup) – 1 1/4 cup
Rose water – 1 tbsp
Food color(yellow) – 1/4 tsp
Oil – for frying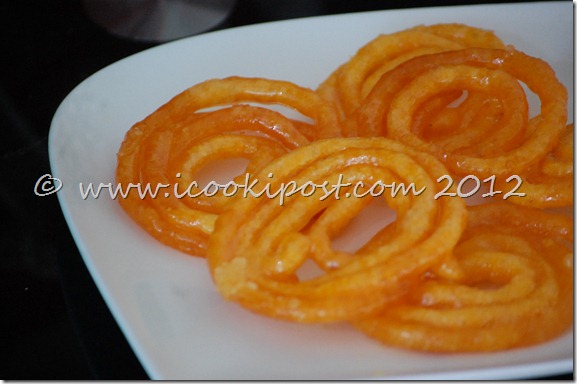 Preparation
Grind soaked urad dal and rice with 1/2 cup of water into a smooth paste( it should be dropping consistency).Don't let the batter to get ferment.
Add food color to it and mix well.
Pour the batter into a ketchup dispensing bottle.
In the mean time,make sugar syrup by boiling sugar and water Once it starts to boil,add rose water and a pinch of food color. Turn the flame to low.The syrup should not be thread like consistency.The syrup should be warm all the time while frying jalebis.
On another stove,Heat oil in a wide pan on medium flame.Once the oil is hot,hold the ketchup dispenser over hot oil and squeeze the batter into round coiled circles several at a time. Fry them on both sides for 1 minute and immediately transfer it into the warm sugar syrup.
Let it soak in the sugar syrup for 2-3 minutes .
Remove the soaked jalebis into a plate.
Serve warm.
Tips to make good jalebis
Fry jalebis on medium flame.
The sugar syrup should be warm all the time and if it becomes thicker, add some more water to it to get correct consistency.
Use a wide saucepan for frying so that oil will spread evenly.
Recipe Source:Lakshmi Nair